Meeting Excellence: 33 Tools to Lead Meetings That Get Results
ISBN: 978-1-118-19662-5
240 pages
January 2006, Jossey-Bass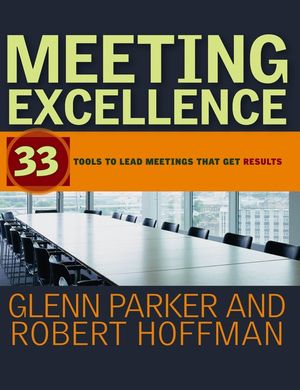 Meeting Excellence
is a comprehensive resource that provides a wide range of ready-to-use tools that have been developed and tested by a meeting initiative within Novartis Pharmaceuticals. It is based on years of research observing team meetings, examining existing meeting documents, and conducting a number of intensive individual interviews in the
U.S.
and
Europe
. This important book offers the information and tools needed to prepare, facilitate, and follow up on all your meetings. Step by step,
Meeting Excellence
shows how to
  Create an action-focused meeting agenda

  Ensure that everyone participates in discussion

  Deal with disruptive and inattentive people

  Develop a climate of trust among meeting participants

  Create and deliver effective meeting presentations

 Stay on track to achieve your meeting goals

 Achieve clear communication during a multicultural meeting

Liven up a dreary and unproductive meeting

Close your meeting on an upbeat and positive note

Get action on team action items

  Improve meeting communications with line management

Evaluate your meeting quickly and effectively

Choose among various web-based meeting tools
See More
Preface vii
PART 1: PREPARING FOR THE MEETING.
1. Is This Meeting Necessary? 3
2. Preparing for Your Next Meeting 5
3. How to Prepare an Action Agenda 11
4. Defining Team Meeting Roles 16
5. How to Integrate a New Member 21
6. When a Member Leaves the Team 24
7. Establishing Your Team's Ground Rules 28
8. Components of a New Team Kick-Off Meeting 32
9. Planning an Off-Site Meeting That's On Target 37
10. Your Opening Act: Setting the Tone for an Excellent Meeting 42
11. E-Mail Excellence 45
PART 2: FACILITATING THE MEETING.
12. Meeting Time Management: When to Meet, How Long to Meet, and When to Take a Break 51
13. Staying on Track 55
14. How to Get Effective Participation 59
15. Building a Foundation of Trust 66
16. Communicating in a Videoconference 69
17. Teleconference Tips 73
18. Achieving Clear Communication in a Multicultural Meeting 77
19. How to Make a Decision 83
20. Presenting at a Team Meeting 93
21. Resolving Conflicts in a Team Meeting 103
22. Responding to Nonverbal Communication 108
23. Managing Meeting Monsters: Dealing with Difficult Behavior in Team Meetings 112
24. Serious Fun at Team Meetings? You're Kidding! 118
25. Eating Well = Meeting Well 130
PART 3: CLOSING AND FOLLOWING UP ON THE MEETING.
26. Ending Meetings On Time and On Target 137
27. Meeting Evaluation: A Two-Minute Drill 139
28. Meeting Evaluation: A Five-Minute Activity 141
29. Meeting Evaluation: A Ten-Minute Assessment 144
30. Meeting Notes: Capturing the Essence of Your Meeting 147
31. Getting Action on Action Items 150
32. After-Meeting Actions 153
33. Managing External Communications 156
PART 4: RESOURCES.
A. Web-Based Meeting Tools 167
B. The Seven Sins of Deadly Meetings 171
C. Are You a Meeting Marvel? A Self-Test for Meeting Participants 181
D. What Would You Do? Problem Situations for Meeting Facilitators 184
E. Meeting Excellence: Your Final Exam 190
F. Annotated Bibliography of Meeting Resources 202
About the Authors 207
Index 209
See More