E-book
The Little Book of Big Profits from Small Stocks + Website: Why You'll Never Buy a Stock Over $10 Again
ISBN: 978-1-118-19803-2
208 pages
October 2011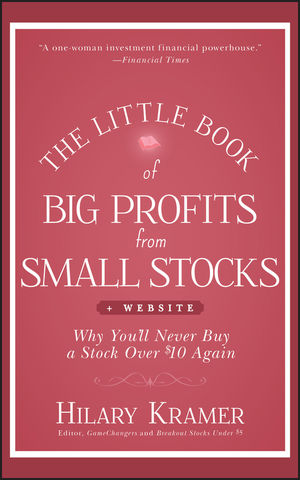 The key to building wealth the low-priced stock way
Low-priced gems, or what author Hilary Kramer calls "breakout stocks" come in all kinds of shapes and sizes but they all have three things in common: (1) they are mostly under $10; (2) they are undervalued; and (3) they have specific catalysts in the near future that put them on the threshold of breaking out to much higher prices. In The Little Book of Big Profits from Small Stocks, small stock expert Hilary Kramer looks for stocks with fifty to two hundred percent upside potential!
From drug stocks that may have been punished because an FDA approval failed to materialize when Wall Street expected it to, to the overly zealous selling off of Ford, there are many great low-priced stock opportunities. In this Little Book you'll learn:
How to identify the low cost stocks that have the potential to yield big profits
The most important secret to making money in stock investing
Plus, you'll gain instant access to a website with educational videos, interactive tools and stock recommendations
The Little Book of Big Profits from Small Stocks explains Kramer's methodology and gives you the ability to analyze the opportunities to pick your own winners.
See More
Foreword xi
Acknowledgments xv
Introduction: The Investing Edge You Have on Wall Street xix
Chapter One The Classic Under $10 Stock 1
Chapter Two The Price Is Not Just Right, It's Critical 9
Chapter Three Oh, How the Mighty Have Fallen 21
Chapter Four Growing Out of Sight 37
Chapter Five Shopping the Bargain Bin 53
Chapter Six Getting the World Healthy and Wealthy 65
Chapter Seven Around the World Under $10 77
Chapter Eight Forget Everything You Thought You Knew 89
Chapter Nine Looking for the Right Stuff 97
Chapter Ten Well Bought is Half Sold 111
Chapter Eleven Beware the Wolves of Wall Street 125
Chapter Twelve Low Prices and High Profits 135
Appendix Getting Started with Quick Response (QR) Codes 145
More from Hilary Kramer 147
See More
Hilary Kramer is Editor of GameChangers, Breakout Stocks Under $5, and High Octane Stocks (all for InvestorPlace Media). She is a regular contributor to MarketWatch.com, Forbes.com, and is a commentator on Nightly Business Report. The Financial Times calls her "a one-woman financial powerhouse." She received her MBA from the Wharton School of Finance at the University of Pennsylvania and within a decade was recognized as one of the best equity investors on Wall Street. She has twenty-five years of investing experience, first as an analyst, then as a portfolio manager, investment banker, and hedge fund manager, and has managed more than $5 billion in global private equity and publicly-traded investments.
See More