E-book
Droid 3 For Dummies
ISBN: 978-1-118-19856-8
368 pages
October 2011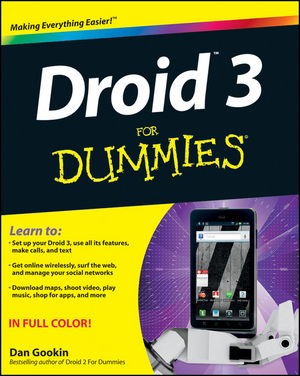 This practical, full-color guide explains your Droid 3, inside and out
This guide to the hot new Droid 3 is just what you need to get the very most out of the next-generation smartphone from Google. Bestselling For Dummies author Dan Gookin keeps you ahead of the curve by thoroughly and clearly covering all the bases--from setup and configuration to using all the phone's features, texting, email, accessing the Internet, synching with a PC, using the camera, and much more.
Helps you get the most out of your Droid 3 smartphone, which runs on the 4G LTE network
Walks you through all features and functions of this Internet- and multimedia-enabled new model
Covers setup and configuration, texting, email, accessing the Internet, synching with a PC, using the camera, and extending the battery
Provides a host of useful tips, tricks, and techniques
Touches on the over 200,000 available apps, which can be purchased from the Android Market or through the Verizon Droid-specific AppSphere
Now that you've got the new Droid 3, make the most of it with Droid 3 For Dummies!
See More
Introduction 1
Part I: Droid, Droid, Droid 7
Chapter 1: Thrice the Droid, Thrice the Fun 9
Chapter 2: Setup and Configuration 21
Chapter 3: The Droid 3 Tour 33
Chapter 4: The Keyboard-and-Text Chapter 49
Part II: Basic Phone 65
Chapter 5: Yes, It Can Make Phone Calls 67
Chapter 6: Advanced Phone Duties 81
Chapter 7: At the Sound of the Tone . . . 91
Chapter 8: Your Address Book 99
Part III: Nonverbal Communications 115
Chapter 9: Don't Say It — Text It 117
Chapter 10: Mail of the Electronic Kind 127
Chapter 11: Fun on the Web 143
Chapter 12: Friends and Followers 155
Part IV: Magical and Nontraditional Activities 165
Chapter 13: There's a Map for That 167
Chapter 14: Picture This, Video That 181
Chapter 15: Your Digital Photo Album 193
Chapter 16: Music, Music, Music 205
Chapter 17: Even More Apps 217
Chapter 18: Behold the Android Market 233
Part V: Nuts and Bolts 245
Chapter 19: No Wires Ever!  247
Chapter 20: Connect, Store, Share 259
Chapter 21: On the Road Again 271
Chapter 22: Personalize Your Droid 3 281
Chapter 23: Maintenance and Troubleshooting 295
Part VI: The Part of Tens 309
Chapter 24: Ten Tips, Tricks, and Shortcuts 311
Chapter 25: Ten Things to Remember 319
Chapter 26: Ten Worthy Apps 325
Index 331
See More
Dan Gookin is the bestselling author who wrote the original For Dummies book in 1991. With more than 12 million copies in print, his books have been translated into 32 languages and explain hardware, software, smartphones, and other technology topics in plain English. Visit Dan's website at www.wambooli.com.
See More