E-book
eBay For Dummies, 7th Edition
ISBN: 978-1-118-19931-2
408 pages
December 2011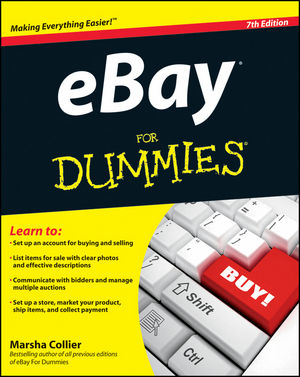 The unparalleled guide to successfully buying and selling on eBay, fully revised and updated
eBay is the world's #1 shopping and selling site, where millions find bargains and make money with their own sales. Marsha Collier is the #1 eBay expert and bestselling author, with more than a million copies of her books in print. And eBay For Dummies has been the bestselling book on eBay since the original edition in 1999. Thoroughly updated to cover all the changes in the eBay site, eBay For Dummies, 7th Edition is an easy-to-follow path for new users to get from registration through making purchases to making sales.
Ultimate eBay authority Marsha Collier gets you started with information about signing up, navigating the site, and using the My eBay page to track you activity. She then shows you how to find the best bargains, make a winning bid, and complete your purchase securely. While she guides you into becoming a successful eBay seller, she also shows you how you can pick up extra money in a tight economy with eBay sales.
Walks you through listing an item, shoot and post a photo, communicate with bidders, safely ship a sold item, and securely collect your money
Shows you how to set up a seller account, list items, offer customer service, ship merchandise, and receive payment securely
Highlights expanded guidance on selling on eBay, which is the process that sparks the most demand for outside help
Explores eBay's special features, showing you how to work within the rules, use the community, and even set up a charity auction
Shares tips for managing multiple auctions, creating a store, troubleshooting, maintaining privacy, and reporting abuses
eBay For Dummies, 7th Edition prepares you to save money on your purchases and make money on your sales, all from the comfort of your home.
See More
Introduction 1
Part I: Getting a Feel for eBay 7
Chapter 1: Why Being on eBay Is So Much Fun 9
Chapter 2: Ready, Set, Go! Signing Up on eBay 19
Chapter 3: Finding Your Way Around eBay! 31
Chapter 4: Your Very Own, Private eBay 47
Part II: Buying Like an Expert 75
Chapter 5: Deal or No Deal? Search Tricks and More 77
Chapter 6: Get the Deal: Shopping eBay 101
Chapter 7: Auction-Winning Strategies 125
Chapter 8: Winner! Winner! Chicken Dinner? 139
Part III: Making Money the eBay Way 151
Chapter 9: Selling in Your Bunny Slippers for Fun and Profit 153
Chapter 10: Make It Sell: Completing the Cyber Paperwork 181
Chapter 11: Shopping or Selling with an eBay Store 209
Chapter 12: Closing the Deal and Shipping It Out 215
Chapter 13: Troubleshooting Transactions 239
Chapter 14: Increase Your Profits with Pictures and Other Strategies 257
Part IV: Even More of eBay's Special Features 277
Chapter 15: Privacy: Protecting Yourself Online 279
Chapter 16: Staying Safe and Sane 295
Chapter 17: Social Media and the eBay Community 317
Chapter 18: Mobile eBay Apps and Fun Features 333
Part V: The Part of Tens 341
Chapter 19: Ten (Or So) Golden Rules for eBay Buyers and Sellers 343
Chapter 20: Ten Services to Ease Your Way 349
Appendix: Finding Stuff to Sell 363
Index 371
See More
Marsha Collier is the undisputed empress of eBay, with more than a million copies of her books in print. She is cohost of the Computer & Technology Radio Show heard online at wsradio.com and an in-demand educator for all things online-business-related. Marsha was one of eBay's original PowerSellers.
See More