Visual Guide to ETFs
ISBN: 978-1-118-20465-8
256 pages
January 2013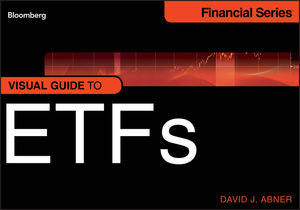 A visual guide to one of the fastest growing areas in trading and speculation
An Exchange-Traded Fund (ETF)—a security that tracks an index, a commodity, or a basket of assets like an index fund, but trades like a stock on an exchange—offers diversification of an index fund, as well as the ability to sell short, buy on margin, and purchase as little as one share. Giving financial advisors, institutional asset managers, traders, and other investment professionals the information they need to get the most out of ETF opportunities, the Bloomberg Visual Guide to ETFs covers the subject in a highly visual manner.
Starting with an introduction to ETFs, the book looks at where they fit within the world of investment products, how they are structurally differentiated from other products and among themselves, relevant tax considerations, global listings, growth on a global basis, evolution of the product set, and other topics. Also looking towards the future, the text provides information on finding ETFs—including fund searches, fund news, measuring and valuing ETFs, evaluating their correlation to the underlying sector or commodity being tracked, and more. As a result, the book is a resource not just for understanding ETFs today, but for taking advantage of what's to come.
Presents critical information in an easy-to-absorb visual manner
Serves as a reference, presenting information in easily digestible pieces for easy access
Author David Abner is a well-known ETF developer expert
Incorporates quizzes, charts, and other accessible features to bring the material to life
ETFs are multivarious, complex instruments that offer unique rewards, and the Bloomberg Visual Guide to ETFs brings together everything that people working with them need to understand to cash in.
See More
List of Exhibits ix
How to Use This Book xii
Preface xiii
Acknowledgments xv
Chapter 1: Characteristics of Modern Investment Products 1
Chapter 2: Understanding How ETF Portfolios Work: The Primary Markets 31
Chapter 3: Understanding the Short Interest of ETFs 63
Chapter 4: Trading and Liquidity of the ETF Markets: The Secondary Markets 81
Chapter 5: ETFs and the Flash Crash 111
Chapter 6: How to Execute Orders in ETFs 121
Chapter 7: Examining ETF Trading Strategies 137
Chapter 8: Product Labeling and Structural Impact 177
Chapter 9: Where to Find ETF Information 205
Appendix: Bloomberg Functionality Cheat Sheet 221
Index 235
See More
David J. Abner currently heads Capital Markets for WisdomTree Asset Management, an ETF issuer based in New York. In his twenty years in finance, he has been managing director at both BNP Paribas and Bear Stearns, building and managing ETF sales and trading businesses. Abner travels around the U.S. and the world, advising institutions and asset managers on how best to build and trade ETF portfolios. He is passionate about the future of the ETF industry and continues to develop more efficient systems and techniques for ETF investors.
See More
More in this series
Learn more about