E-book
Gluten-Free Baking For Dummies
ISBN: 978-1-118-20612-6
384 pages
November 2011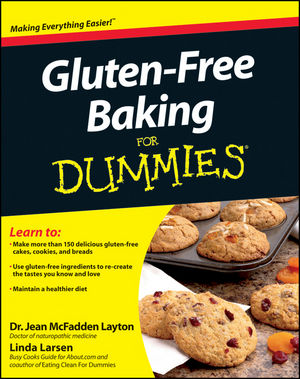 More than 150 tasty recipes for gluten-free baking
Imagine baking without flour. Impossible, right? Essentially, that's what you're doing when you bake gluten-free. Sure, there are replacement flours, but there's an art to combining those ingredients to re-create the tastes you know and love. Baking is truly the greatest challenge when cooking gluten-free, and more than 150 delicious, gluten-free recipes for baking cakes, cookies, and breads are coming fresh out of the oven to help you meet this challenge with Gluten-Free Baking For Dummies.
Gluten-intolerant eaters have big concerns with baking, as wheat flour, a staple ingredient of many bread and baking recipes, is their greatest concern. Gluten-Free Baking For Dummies expands baking opportunities for those avoiding wheat flour, either for medical reasons or by choice. It offers you a wide variety of recipes along with valuable information about diet, health concerns, and kitchen and shopping basics.
Discover new baking ideas and substitutes for common glutinous ingredients
Easy recipes and methods for baking more than 150 gluten-free cakes, cookies, and breads
Tips and advice for shopping and stocking your kitchen
Gluten-Free Baking For Dummies is for the millions of people who suffer from Celiac disease, their friends and family, and anyone looking for healthy and tasty wheat- and gluten-free baking recipes.
See More
Introduction 1
Part I: What Is Gluten-Free Baking? 7
Chapter 1: The Challenges and Rewards of Gluten-Free Baking 9
Chapter 2: Why Bake Gluten-Free? 19
Chapter 3: Understanding the Rules of Baking 35
Chapter 4: Unique Issues of Gluten-Free Baking 57
Chapter 5: Building Flavor and Structure without Wheat 79
Chapter 6: Understanding Dough 99
Part II: The Nuts and Bolts of Gluten-Free Baking 109
Chapter 7: Nutrition, Health, and the Gluten-Free Lifestyle 111
Chapter 8: Keeping a Gluten-Free Kitchen 125
Chapter 9: Converting Favorite Recipes to Gluten-Free 137
Part III: Sweet Gluten-Free Baking Recipes 149
Chapter 10: Gluten-Free Baking Mixes 151
Chapter 11: Quick Breakfast Recipes 169
Chapter 12: Sweet Yeast Breads 189
Chapter 13: Cookie Recipes 205
Chapter 14: Brownies and Bars 221
Chapter 15: Pies and Pastries 235
Chapter 16: Cake and Frosting Recipes 249
Part IV: Savory Gluten-Free Baking Recipes 269
Chapter 17: Batter and Dough Recipes 271
Chapter 18: Biscuits and Crackers 281
Chapter 19: Savory Breads 295
Chapter 20: Pizzas, Savory Pies, and Calzones 311
Chapter 21: Casseroles, Soufflés, Crepes, and Dumplings 325
Part V: The Part of Tens 339
Chapter 22: Ten Important Gluten-Free Baking Tips 341
Chapter 23: Ten Sneaky Places Where Gluten Can Hide 345
Index 351
See More
Dr. Jean McFadden Layton
is a doctor of naturopathic medicine and a recipe provider and nutritionist who specializes in gluten intolerance and celiac disease.
Linda Larsen creates and tests recipes for major food companies, is the Busy Cooks Guide at About.com, and is the coauthor of Eating Clean For Dummies.
See More