E-book
Import / Export Kit For Dummies, 2nd Edition
ISBN: 978-1-118-20629-4
384 pages
February 2012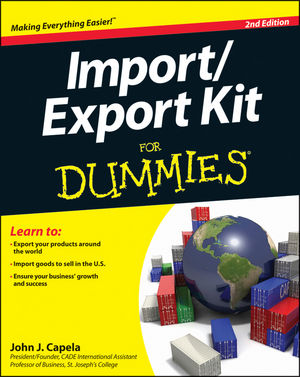 An easy-to-understand primer on the exciting world of import/export
With significant changes in technology, expanding economies, and international trade agreements, the global marketplace continues to grow and change rapidly. The United States imports approximately $1.2 trillion and exports $772 billion in goods per year. Import/Export Kit For Dummies provides entrepreneurs and small- to mid-sized businesses with the critical, entry-point information they need to begin exporting their products around the world and importing goods to sell in the U.S.
The bonus CD includes: a printable dictionary of international business and internet terms to help students and business people understand the international marketplace; sample distributor and agent agreement outlines; guidelines and checklists for developing a successful business and marketing plan; and the most up-to-date templates for pricing models, licensing, and shipping.
New edition features an increased focus on global trade
Details America's top ten trading partners and how to conduct business abroad
Covers the most up-to-date trade regulations
A bonus CD-ROM is filled with forms and tools to help make starting an import/export business easier and more efficient
If you're an entrepreneur or small- to mid-sized business owner, Import/Export Kit For Dummies provides you with everything you need to know to ensure your business' growth and success.
See More
Introduction 1
Part I: Breaking into the Import/Export Business 7
Chapter 1: Introducing Import/Export 9
Chapter 2: Figuring Out Your Role in the Import/Export Business 19
Chapter 3: Rules and Regulations to Consider Before You Get Started 33
Chapter 4: Organizing for Import and Export Operations 49
Part II: Selecting Products and Suppliers 67
Chapter 5: Selecting the Right Products 69
Chapter 6: Connecting with Overseas Suppliers for Your Imports 75
Chapter 7: Finding U.S. Suppliers for Your Exports 87
Part III: Identifying Your Target Market and Finding Customers 95
Chapter 8: Looking at Marketing 97
Chapter 9: Researching Export Markets 121
Chapter 10: Researching Import Markets 129
Chapter 11: Making Export Contacts and Finding Customers 139
Chapter 12: Locating Customers for Your Imports 149
Part IV: Negotiating around the World 157
Chapter 13: How Negotiations Work 159
Chapter 14: What Makes Global Negotiating Different 167
Chapter 15: Doing Business around the World 177
Part V: Completing the Transaction: International Trade Procedures and Regulations 205
Chapter 16: Making the Sale: Pricing, Quotes, and Shipping Terms 207
Chapter 17: Methods of Payment 217
Chapter 18: Packing and Shipping with the Right Documentation 239
Chapter 19: Getting Your Goods: Customs Requirements and the Entry Process 255
Part VI: The Part of Tens 277
Chapter 20: Ten Keys to Becoming a Successful Importer 279
Chapter 21: Ten Keys to Becoming a Successful Exporter 285
Part VII: Appendixes 291
Appendix A: Resources 293
Appendix B: Multilingual Cross-Reference for International Shipping Terms 305
Appendix C: About the CD 315
Index 325
See More
John J. Capela is an international business consultant who has taught marketing, management, and other business courses for more than 20 years. He also conducts import/export seminars throughout the New York metropolitan area.
See More