E-book
Russian For Dummies, 2nd Edition
ISBN: 978-1-118-20638-6
384 pages
February 2012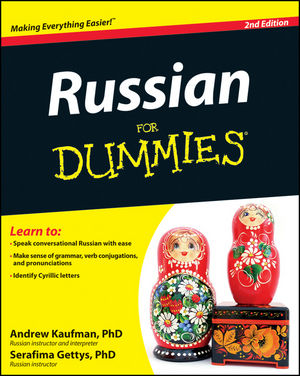 The fast and easy way to learn to speak Russian
With Russia in line to host the World Cup in 2018, the Winter Olympics in 2014, as well as a Formula 1 Grand Prix, interest in Russia is on the rise. Russian For Dummies is an excellent resource for students, tourists, and businesspeople looking for an introduction to this popular and complex language.
This updated edition offers new and improved content, more useful exercises and practice opportunities, all new content devoted to the Cyrillic alphabet, and much more.
A revamped, user-friendly organization
A fully updated and expanded audio CD with real-life conversations by native speakers
Expanded coverage of grammar, verb conjugations, and pronunciations
A refreshed and expanded mini-dictionary complete with even more essential vocabulary
Russian For Dummies provides basic instruction to those seeking to grasp the basics of conversational Russian. Students, travelers, and businesspeople with little or no language experience will gain a clearer understanding on how to communicate in Russian.
See More
Introduction 1
Part I: Getting Started 7
Chapter 1: Russian in a Nutshell 9
Chapter 2: Checking Out the Russian Alphabet 17
Chapter 3: Warming Up with Russian Grammar Basics 33
Chapter 4: Getting Started with Basic Expressions 69
Chapter 5: Getting Your Numbers, Times, and Measurements Straight 81
Chapter 6: Speaking Russian at Home 99
Part II: Russian in Action 117
Chapter 7: Getting to Know You: Making Small Talk 119
Chapter 8: Asking for Directions 133
Chapter 9: Dining Out and Going to the Market 145
Chapter 10: Shopping Made Easy 157
Chapter 11: Going Out on the Town 173
Chapter 12: Taking Care of Business and Telecommunications 185
Chapter 13: Recreation and the Great Outdoors 203
Part III: Russian on the Go 219
Chapter 14: Planning a Trip 221
Chapter 15: Dealing with Money in a Foreign Land 231
Chapter 16: Getting Around: Planes, Trains, Taxis, and More 241
Chapter 17: Finding a Place to Stay 255
Chapter 18: Handling Emergencies 271
Part IV: The Part of Tens 289
Chapter 19: Ten Ways to Pick Up Russian Quickly 291
Chapter 20: Ten Things Never to Say in Russian 295
Chapter 21: Ten Favorite Russian Expressions 301
Chapter 22: Ten Phrases That Make You Sound Fluent in Russian 305
Part V: Appendixes 311
Appendix A: Mini-Dictionary 313
Appendix B: Verb Tables 333
Appendix C: On the CD 339
Appendix D: Answer Keys 341
Index 345
See More
Andrew Kaufman
, PhD, is a published scholar and an award-winning teacher of Russian language, literature, and culture at some of the country's top universities.
Serafima Gettys, PhD, is a Coordinator of the Foreign Language Program at Lewis University, where she also teaches Russian.
See More