Think Write Grow: How to Become a Thought Leader and Build Your Business by Creating Exceptional Articles, Blogs, Speeches, Books and More
ISBN: 978-1-118-20819-9
192 pages
February 2012, Wrightbooks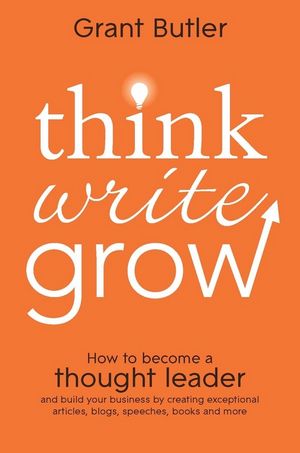 In a competitive age, thought leadership has emerged as a subtle but powerful way to grow your business, establish credibility and demonstrate expertise, build your profile and forge relationships with prospects and customers. Thought leadership material can take many forms, including public speaking, websites, the media, advertising, writing books, online forums, webinars and blogging. This book will show you how to take your great ideas and craft them into a clear point of view which can influence others.
The book is organised into three parts:
1. Think: Defines thought leadership and how to transform your great ideas into effective thought leadership material.
2. Write: Shows you how to articulate your ideas into effective communication.
3. Grow: Demonstrates how thought leadership can be marketed to grow your business and profile.
Key features:
Shows you how to go from expert to influential thought leader
Written by Grant Butler, former Australian Financial Review journalist and now managing director of Australia's largest corporate writing firm.
Explains techniques used by politicians, public figures and the CEOs of our biggest companies.
Think Write Grow
studies the techniques of the great communicators of recent times, from Barack Obama and Boris Johnson to Tim Flannery and Malcolm Turnbull.
See More
About the author vii
Acknowledgements ix
Introduction xi
PART 1: THINK
1 What is thought leadership? 3
2 What is thought leadership marketing? 9
3 Who are thought leaders? 15
4 Finding your sweet spot 33
5 Types of thought leadership material 41
PART 2: WRITE
6 Preparing to write 61
7 Writing to capture, convince and close 75
8 Writing: words, flow and storytelling 95
9 Editing and revisions 119
PART 3: GROW
10 The benefits of thought leadership 129
11 Your investment 141
12 Strategy and promotion 147
Conclusion 162
Appendices 163
Index 170
Notes 175
See More
Grant Butler is managing director of Editor Group, Australia's leading corporate writing firm. Before founding Editor Group, Grant was a senior journalist with The Australian Financial Review and held PR and lobbying roles in Australia and the United Kingdom.
See More