Series 7 Exam For Dummies, 2nd Edition
ISBN: 978-1-118-20986-8
384 pages
May 2012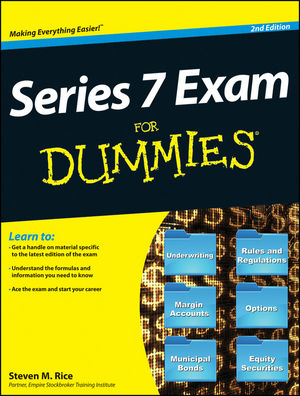 Your no-nonsense guide to acing the Series 7 exam
In order to become a stockbroker and sell securities, you must first pass the Series 7 exam—a 6-hour, 250-question monstrosity. Unlike many standardized tests, the Series 7 exam is harder than it seems, and people who score below 70% must retake the test, having to wait at least a month before retaking it and paying hefty registration fees. Luckily, there's Series 7 Exam For Dummies—the leading guide that not only shows you how to think like a financial advisor but also like the test designers. Rather than an all-encompassing, comprehensive textbook, this guide covers only what's on the test, offering formulas, tips, and basic info you need to study.
Packed with tips for answering questions and taking the test, Series 7 Exam For Dummies continues to be the trusted reference for anyone looking to ace the exam and start their career. The test has gone through its first major overhaul in more than a decade, so in addition to updates required to keep the book in line with the latest exam, this new edition provides two completely new practice tests. Plus, you'll find easily navigable content review covering everything you'll encounter on test day.
Presents straightforward information on complex concepts
Covers every topic you'll encounter on the exam
Helps you understand difficult subject matter with confidence and ease
Brimming with valuable information and know-how, this no-nonsense guide is your ticket to scoring high on the Series 7 exam.
See More
Introduction 1
Part I: Gearing Up for the Series 7 Exam 5
Chapter 1: So You Want to Sell Securities: Introducing the Series 7 Exam 7
Chapter 2: Preparing for the Series 7 Exam 17
Chapter 3: Examining and Mastering Question Types 29
Chapter 4: Surviving Test Day 41
Part II: Mastering Basic Security Investments 47
Chapter 5: Underwriting Securities 49
Chapter 6: Corporate Ownership: Equity Securities 61
Chapter 7: Debt Securities: Corporate and U.S. Government Loans 73
Chapter 8: Municipal Bonds:Local Government Securities 93
Part III: Delving Deeper: Security Investments with a Twist 109
Chapter 9: Borrowing Money and Securities: The Long and Short of Margin Accounts 111
Chapter 10: Delivering Diversification with Packaged Securities 127
Chapter 11: Working with Direct Participation Programs 141
Chapter 12: Options: The Right to Buy or Sell at a Fixed Price 151
Part IV: Playing Nicely: Serving Your Customers and Following the Rules 181
Chapter 13: Doing a Little Market Research: Portfolio and Securities Analysis 183
Chapter 14: Going to Market: Orders and Trades 199
Chapter 15: Making Sure the IRS Gets Its Share 213
Chapter 16: No Fooling Around: Rules and Regulations 225
Part V: Putting Your Knowledge to Good Use: A Practice Exam 247
Chapter 17: Bring It On: Practice Exam Part I 249
Chapter 18: Answers and Explanations to Practice Exam Part I 269
Chapter 19: Nothing but Net: Practice Exam Part II 287
Chapter 20: Answers and Explanations to Practice Exam Part II 309
Part VI: The Part of Tens 325
Chapter 21: Ten Series 7 Exam Traps to Avoid 327
Chapter 22: Ten Ways to Start Your Career Off Right 331
Appendix: Memorizing Important Figures and Formulas 335
Index 337
See More
Steven M. Rice is a partner and instructor at the Empire Stockbroker Training Institute, one of the largest and most successful securities training schools in the country.
See More