E-book
Practical Text Mining with Perl
ISBN: 978-1-118-21050-5
E-book
296 pages
September 2011
US $94.99

Purchase This E-book
This price is valid for United States. Change location to view local pricing and availability.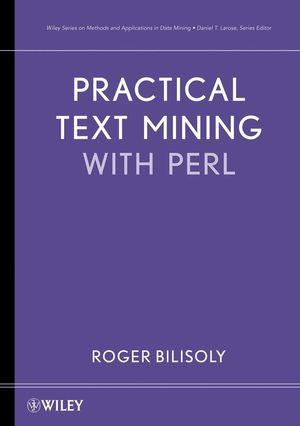 Adobe e-books are read using Adobe Digital Editions. Install Adobe Digital Editions on your PC in order to read or transfer your e-book.
List of Figures.
List of Tables.
Preface.
Acknowledgments.
1. Introduction.
1.1 Overview of this Book.
1.2 Text Mining and Related Fields.
1.3 Advice for Reading this Book. 
2. Text Patterns.
2.1 Introduction.
2.2 Regular Expressions.
2.3 Finding Words in a Text.
2.4 Decomposing Poe's "The Tell-Tale Heart" into Words.
2.5 A Simple Concordance.
2.6 First Attempt at Extracting Sentences.
2.7 Regex Odds and Ends.
2.8 References. 
3. Quantitative Text Summaries.
3.1 Introduction.
3.2 Scalars, Interpolation, and Context in Perl.
3.3 Arrays and Context in Perl.
3.4 Word Lengths in Poe's "The Tell-Tale Heart".
3.5 Arrays and Functions.
3.6 Hashes.
3.7 Two Text Applications.
3.8 Complex Data Structures.
3.9 References.
3.10 First Transition. 
4. Probability and Text Sampling.
4.1 Introduction.
4.2 Probability.
4.3 Conditioned Probability.
4.4 Mean and Variance of random Variables.
4.5 The Bag-of-Words Model for Poe's :The Black Cat".
4.6 The Effect of Sample Size.
4.7 References. 
5. Applying Information Retrieval to Text Mining.
5.1 Introduction.
5.2 Counting Letters and Words.
5.3 Text Counts and Vectors.
5.4 The Term-Document Matrix Applied to Poe.
5.5 Matrix Multiplication.
5.6 Functions of Counts.
5.7 Document Similarity.
5.8 References. 
6. Concordance Lines and Corpus Linguistics.
6.1 Introduction.
6.2 Sampling.
6.3 Corpus as Baseline.
6.4 Concordancing.
6.5 Collocations and Concordance Lines.
6.6 Applications with References.
6.7 Second Transition. 
7. Multivariate Techniques with Text.
7.1 Introduction.
7.2 Basic Statistics.
7.3 Basic Linear Algebra.
7.4 Principal Component Matrices.
7.5 Text Applications.
7.6 Applications and References. 
8. Text Clustering.
8.1 Introduction.
8.2 Clustering.
8.3 A Note on Classification.
8.4 References.
8.5 Last Transition. 
9. A Sample of Additional Topics.
9.1 Introduction.
9.2 Perl Modules.
9.3 Other Languages: Analyzing Goethe in German.
9.4 Permutation Tests.
9.5 References. 
Appendix A. Overview of Perl for Text Mining.
A.1 Basic Data Structures.
A.2 Operators.
A.3 Branching and Looping.
A.4 A Few Functions.
A.5 Introduction to Regular Expressions. 
Appendix B. Summary of R used in this Book
B.1 Basics of R.
B.2 This Book's R Code..
References.
Index.