E-book
Troubleshooting Process Plant Control
ISBN: 978-1-118-21114-4
264 pages
September 2011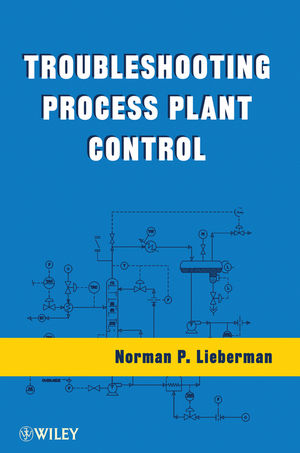 The book focuses on process control in the petroleum and refinery industries, with an emphasis on problem solving. The author explores various real life examples and relays the lessons learned from his career in this area. He explains many new yet straightforward concepts without the use of complex mathematics. This handy go-to emphasizes single and well-established process engineering principles that will help working engineers and operators switch manual control loops to automatic control.
See More
PREFACE ix
INTRODUCTION—A HISTORY OF POSITIVE FEEDBACK LOOPS xi
Chapter 1 Learning from Experience 1
Chapter 2 Process Control Parameter Measurement 9
Chapter 3 Dependent and Independent Variables 21
Chapter 4 Binary Distillation of Pure Components 29
Chapter 5 Distillation Tower Pressure Control 37
Chapter 6 Pressure Control in Multicomponent Systems 51
Chapter 7 Optimizing Fractionation Effi ciency by Temperature Profi le 59
Chapter 8 Analyzer Process Control 67
Chapter 9 Fired Heater Combustion Air Control 75
Chapter 10 Sizing Process Control Valves 85
Chapter 11 Control Valve Position on Instrument Air Failure 93
Chapter 12 Override and Split-Range Process Control 101
Chapter 13 Vacuum System Pressure Control 107
Chapter 14 Reciprocating Compressors 115
Chapter 15 Centrifugal Compressor Surge vs. Motor Over-Amping 123
Chapter 16 Controlling Centrifugal Pumps 131
Chapter 17 Steam Turbine Control 139
Chapter 18 Steam and Condensate Control 147
Chapter 19 Function of the Process Control Engineer 155
Chapter 20 Steam Quality and Moisture Content 163
Chapter 21 Level, Pressure, Flow, and Temperature Indication Methods 179
Chapter 22 Alarm and Trip Design for Safe Plant Operations 195
Chapter 23 Nonlinear Process Responses 205
ABOUT MY SEMINARS 213
FURTHER READINGS ON TROUBLESHOOTING PROCESS CONTROLS 217
THE NORM LIEBERMAN VIDEO LIBRARY OF TROUBLESHOOTING PROCESS OPERATIONS 219
INDEX 221
See More
Norman P. Lieberman is an independent process design engineer and field troubleshooter. His clients include refineries and petrochemical plants. Mr. Lieberman is well known and respected in the process industry for his seminar "Troubleshooting Process Operations," which he has presented to more than 12,000 engineers and plant operators.
See More