E-book
Night and Low-Light Photography Photo Workshop
ISBN: 978-1-118-21415-2
304 pages
November 2011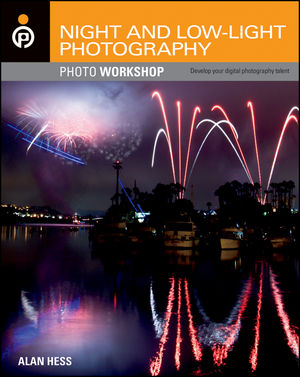 Finally! A resource that sheds light on the unique challenges of night and low-light photography
With their unique sets of challenges, night and low-light photography are often touted as some of the most difficult and frustrating genres of digital photography. This much-needed guide demystifies any murky topics provides you with all the information you need to know from choosing the right gear and camera settings to how to best edit your photos in post-production. Renowned photographer Alan Hess shares techniques and indispensable tips that he has garnered from years of experience.
Helpful projects and full-color stunning photos in each chapter serve to educate and inspire, while assignments at the end of every chapter encourage you to practice your skills and upload your photos to a website so you can share and receive critiques.
Details best practices for taking portraits, landscapes, and action shots in night or low light
Features specific coverage of concert photography and low-light event photography
Answers the most frequent questions that photographers face while tackling this challenging technique
Packed with invaluable advice and instruction, Night and Low-Light Photography Photo Workshop doesn?t leave you in the dark.
See More
Chapter 1 Night and Low-Light Photography Overview 2
Shooting Challenges 4
Light 8
What Gear Is Important 10
Choosing Your Subjects 15
Chapter 2 All About Light and Exposure 20
Direction and Intensity of Light 22
Measuring the Available Light 25
Exposure Settings 27
Equivalent Exposures 34
Multiple Exposures 36
The Color of Light 40
Chapter 3 What Gear Is Important 46
Understanding the Camera's Capabilities and Limitations 49
Lenses 51
Flash Units 58
Tripods 61
Monopods 64
Shutter Releases and Remotes 65
Timers 66
Chapter 4 People and Places Indoors 70
Photographing People Indoors 72
Building Interiors 84
chapter 5 Weddings, Concerts, and Other Events 94
Weddings 96
Photographing Concerts and Events 108
At the Fair 120
Chapter 6 Shooting Sports 128
Sports Venue Lighting 130
Freezing the Action 133
Know the Sport 136
Chapter 7 The Nighttime Sky 140
Sunrise and Sunset 142
Shoot the Moon 147
Time-lapse Photography 152
Star Trails 158
Photographing Fireworks 163
chapter 8 City Lights 170
Street Scenes 172
Light Trails 176
Neon 181
Cityscapes 186
Chapter 9 Light Painting 192
Light Painting Basics 194
Lighting Tools 197
Painting with Light 202
Abstract Images 209
Chapter 10 Low-Light Landscapes 214
Photographing Landscapes in Low Light 217
Long Exposures 223
Chapter 11 Digital Postproduction 232
Software Options 234
File Types 235
Noise Reduction 238
Adjusting the White Balance 246
Adjusting for Color and Exposure 252
Glossary 262
Index 270
See More
Alen Hess is a professional event and concert photographer whose subjects have included Billy Idol, The Grateful Dead, Bruce Hornsby, John Legend, Marilyn Manson, Robin Williams, and many more. He is also the author of Exposure Digital Field Guide and the Composition Digital Field Guide as well as iPad Fully Loaded, all published by Wiley.
See More