Global Strategies for Emerging Asia
ISBN: 978-1-118-21797-9
352 pages
July 2012, Jossey-Bass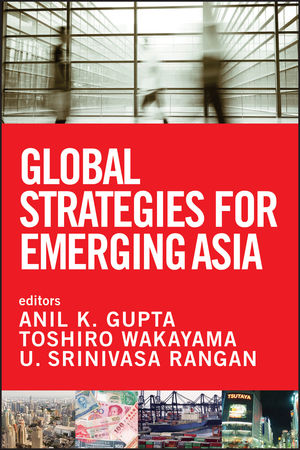 The multinational corporate guide for thriving in the Asian marketplace
Led by China and India, the rise of emerging Asia is transforming the structure of the global economy. By 2025, if not sooner, China will almost certainly overtake the U.S. to become the world's largest economy. By then, India is likely to have overtaken Japan to become the world's third largest economy, after China and the U.S. Besides China and India, Asia also includes other fast-growing economies such as Indonesia, Malaysia, Philippines, Thailand, and Vietnam. Added together, by 2025, these developments are likely to make Asia's economy larger than those of the U.S. and Europe combined.
It is clear that, for every large company, leadership in Asia is rapidly becoming critical for leadership globally. This important resource brings together the latest ideas and in-depth case analyses from leading academics and practitioners to provide a comprehensive guide to succeeding in Asia.
Explores how to develop a strategy to benefit from new patterns of 21st century trade
Explains how companies can fight and win against low-cost competition from Asian companies
Shows how to transfer homegrown management practices to Asia
Reveals how to safeguard the company's intellectual property in China
Brings to light how to leverage India as a platform to revitalize the company's innovation capabilities
A resource for competing in today's international market, this book offers executives and managers a guide for navigating the new global reality—that of Asia as the world's emerging center of gravity.
See More
Preface ix
Acknowledgments xv
Part One: Gearing Up for the New Global Reality 1
1 Building the Next-Generation Global Enterprise 3
Anil K. Gupta, Haiyan Wang
2 Is Your Business Model Ready to Drill into the Core of the Diamond? 29
Niraj Dawar, Charan Bagga
Part Two: Winning the Local Competition in Emerging Asia 59
3 Coevolving Local Adaptation and Global Integration: The Case of Panasonic China 61
Toshiro Wakayama, Junjiro Shintaku, Tomofumi Amano, Takafumi Kikuchi
4 How Some Japanese Firms Have Succeeded Against Low-Cost Competitors in Emerging Markets 87
Junjiro Shintaku, Tomofumi Amano
5 Transferring Home-Grown Management Practices: The Case of Toyota in China 115
Akira Tanaka, Yue Wang
Part Three: Acquisition-Driven Globalization from Emerging Asia 139
6 Dubious Value of International Acquisitions by Emerging Economy Firms: The Case of Indian Firms 141
Aneel Karnani
7 Acquisition Advantage: How Emerging Market Firms Use Acquisitions, and What Incumbents Can Do About It 169
U. Srinivasa Rangan, Sam Hariharan
Part Four: Innovation Opportunities and Challenges in Emerging Asia 201
8 Innovating in the Vortex: New Perspectives from Radically Different Business Experiences in India 203
Srikanth Kannapan, Kuruvilla Lukose
9 Protecting Intellectual Property in China: A View from the Field 235
Andreas Schotter, Mary B. Teagarden
10 Competing in Emerging Asia: Reflections and Conclusions 265
Anil K. Gupta, U. Srinivasa Rangan, Toshiro Wakayama
Notes 285
About the Editors and Contributors 309
Index 321
See More
Anil K. Gupta is the Michael D. Dingman Chair in Strategy and Entrepreneurship at the Smith School of Business, the University of Maryland, and a visiting professor of strategy at INSEAD. A world-renowned scholar on global strategy, he is a regular speaker at major conferences and serves as an adviser and director for corporations in the United States, Europe, and Asia.
Toshiro Wakayama is a professor of innovation and strategy at the Graduate School of International Management, International University of Japan.
U. Srinivasa Rangan holds the Luksic Chair Professorship in Strategy and Global Studies at Babson College. Known for his research on globalization, strategic management, and national competitiveness, he has consulted with and taught in executive education programs for firms in Asia, Europe, and North America.
See More