E-book
Teach Yourself VISUALLY Photoshop Elements 10
ISBN: 978-1-118-21837-2
384 pages
November 2011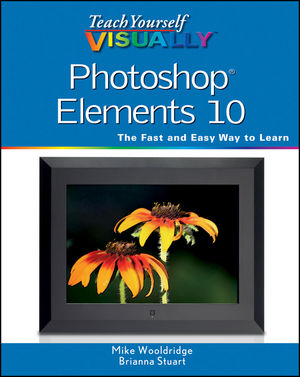 See what to do and how to do it in this visual guide to Photoshop Elements 10
If you want practical coverage of the most important features of Photoshop Elements 10, this book is for you. Packed with step-by-step instructions illustrated with full-color screen shots, this book clearly shows you how to do tasks, rather than using lengthy explanations. Even better, the book includes an associated website with all the images in the book available for download, so you can get hands-on practice as you go. It's an efficient, easy-to-follow way to get up to speed on the latest and best that Photoshop Elements 10 has to offer.
A visual guide to Photoshop Elements 10, perfect for visual learners
Helps you build your skills through clear, step-by-step instruction and ample, full-color illustrations
Covers important new features such as importing photos from digital cameras and scanners, retouching and repairing damaged photos, enhancing digital images, perfecting group shots with Photomerge, and editing images for posting on the web
Also covers using the sharpness interface to correct blurry images, exploring the Curves tool to adjust contract and brightness, and organizing images with auto-stacking
Get the very most out of Photoshop Elements 10 with Teach Yourself VISUALLY Photoshop Elements 10.
See More
Chapter 1 Getting Started
Introducing Photoshop Elements 10 4
Understanding Digital Images 6
Start Photoshop Elements 8
Explore the Editor Workspace 9
Tour the Organizer Workspace 10
Switch Between the Editor and the Organizer 11
Anatomy of the Photoshop Elements Toolbox 12
Work with Toolbox Tools 14
Work with Panels 16
Set Program Preferences 18
View Rulers and Guides 20
Chapter 2 Importing and Opening Digital Images
Get Photos for Your Projects 24
Import Photos from a Digital Camera or Card Reader 26
Import Photos from a Scanner 28
Import Photos from a Folder 30
Watch a Folder for New Images 32
Open a Photo 34
Create a Blank Image 36
Save a Photo 38
Duplicate a Photo 40
Close a Photo 41
Chapter 3 Organizing Your Photos
Introducing the Organizer 44
Open the Organizer 46
Create a Catalog 48
View Photos in the Media Browser 50
View Photos in Full Screen 52
Display a Slide Show in Full Screen 54
View Photo Properties 56
Add a Caption 58
Work with Albums 60
View Photos by Date 62
Find Photos 64
Rate Photos 66
Chapter 4 Using Advanced Organizing Tools
Create a Smart Album 70
Work with Keyword Tags 72
Tag Faces 76
Apply Photo Fixes in Full Screen 78
Stack Photos 80
Find by Visual Similarity 82
Find Objects 84
Chapter 5 Applying Image-Editing Basics
Manage Open Images 88
Magnify with the Zoom Tool 92
Adjust the Image View 94
Change the On-Screen Image Size 96
Change the Image Print Size 98
Change the Image Resolution 100
Change the Image Canvas Size 102
Crop an Image 104
Rotate an Image 106
Undo Changes to an Image 108
Revert an Image 109
Chapter 6 Making Selections
Select an Area with the Marquee 112
Select an Area with the Lasso 114
Select an Area with the Magic Wand 118
Select an Area with the Quick Selection Tool 120
Select an Area with the Selection Brush 122
Save and Load a Selection 124
Invert a Selection 126
Deselect a Selection 127
Chapter 7 Manipulating Selections
Add to or Subtract from a Selection 130
Move a Selection 132
Duplicate a Selection 134
Delete a Selection 135
Rotate a Selection 136
Scale a Selection 137
Skew or Distort a Selection 138
Feather the Border of a Selection 140
Chapter 8 Using Layer Basics
Introducing Layers 144
Create and Add to a Layer 146
Hide a Layer 148
Move a Layer 149
Duplicate a Layer 150
Delete a Layer 151
Reorder Layers 152
Change the Opacity of a Layer 154
Link Layers 155
Merge Layers 156
Rename a Layer 157
Create a Fill Layer 158
Create an Adjustment Layer 160
Blend Layers 162
Add a Layer Mask 164
Edit a Layer Mask 166
Chapter 9 Enhancing and Retouching Photos
Retouch with Guided Edit 170
Quick Fix a Photo 172
Improve Colors with Quick Fix 174
Remove Red Eye 176
Retouch with the Clone Stamp Tool 178
Remove a Spot 180
Sharpen an Image 182
Extract an Object from a Background 184
Merge Group Shots 186
Clean Up a Scene 188
Recompose a Photo 190
Fix Keystone Distortion 192
Improve a Portrait 194
Chapter 10 Improving Lighting and Exposure
Enhance Lighting with Guided Edit 200
Adjust Levels 202
Adjust Shadows and Highlights 204
Change Brightness and Contrast 206
Lighten Areas with the Dodge Tool 208
Darken Areas with the Burn Tool 210
Add a Spotlight 212
Fix Exposure 214
Using the Blur and Sharpen Tools 216
Chapter 11 Enhancing Colors
Enhance Colors with Guided Edit 220
Adjust Skin Color 222
Adjust Color with the Sponge Tool 224
Correct Color with Color Variations 226
Replace a Color 228
Turn a Color Photo into Black and White 230
Add Color to a Black-and-White Photo 232
Adjust Color by Using Color Curves 234
Chapter 12 Painting and Drawing on Photos
Set the Foreground and Background Colors 238
Add Color with the Brush Tool 240
Change Brush Styles 242
Add Color with the Paint Bucket Tool 244
Using a Brush to Replace a Color 246
Adjust Colors with the Smart Brush 248
Draw a Shape 250
Draw a Line 252
Apply the Eraser 254
Apply a Gradient 256
Add from the Content Panel 258
Chapter 13 Applying Filters
Blur an Image 262
Distort an Image 264
Turn an Image into a Painting 266
Turn an Image into a Sketch 268
Add Noise to an Image 270
Pixelate an Image 272
Emboss an Image 274
Apply Multiple Filters 276
Chapter 14 Adding Text Elements
Add Text 280
Change the Formatting of Text 282
Change the Color of Text 284
Create Warped Text 286
Create Beveled Text 288
Add a Shadow to Text 289
Add Text to a Selection 290
Chapter 15 Applying Styles and Effects
Frame a Photo with a Drop Shadow 294
Add a Drop Shadow to a Layer 296
Create a Vintage Photo 298
Add a Fancy Background 300
Add an Outline to a Layer 302
Add an Outer Glow to a Layer 304
Add a Fancy Covering to a Layer 306
Add a Watermark 308
Apply a Photomerge Style 310
Chapter 16 Presenting Photos Creatively
Create a Slide Show 314
Create a Photo Book 318
Create a Flipbook 322
Create PhotoStamps 324
Create a Photo Panorama 326
Chapter 17 Saving and Sharing Your Work
Save a JPEG for the Web 330
Save a GIF for the Web 332
Save a PNG for the Web 334
Convert File Types 336
E-Mail Images with Photo Mail 338
Print Photos 342
Share Photos on Facebook 344
Export Photos 348
Back Up Photos 350
Sign Up for Online Services 352
Share a Photo Album Online 354
Back Up and Synchronize Photos Online 356
Index 358
See More
Mike Wooldridge
is a writer and web developer based in the San Francisco Bay Area. He's authored dozens of books for the Visual series. For more information about him and his books, visit www.wooldridge.net.
Brianna Stuart is a writer and busy mom based in the Seattle area. She is also the author of Creating Web Pages Simplified.
See More