E-book
Small Business For Dummies, 4th Australian and New Zealand Edition
ISBN: 978-1-118-22287-4
424 pages
August 2012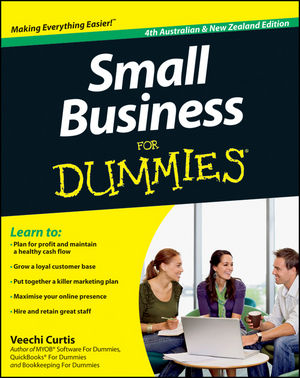 Secure your business success
with this best-selling guide
Thinking about starting a new business? Searching for ways to run your small business better? This essential reference covers everything any Australian or New Zealand small business needs to know, including vital topics such as business planning and franchising, budgeting and GST, marketing and online sales.
Find out what works for you — decide whether to start from scratch, buy an existing business or purchase a franchise

Build a business plan — develop a blueprint for business success with a winning business plan

Develop a marketing strategy — find your unique selling point, build your brand and set sales goals

Understand the importance of customer service — deliver beyond expectations, listen to customers and transform complaints into sales

Ramp up your management skills — understand your legal obligations as an employer, recruit the best employees and build a great team

Succeed online — develop a website, secure high rankings on the search engines and build online sales

Keep your business profitable — understand Profit & Loss reports, manage profit margins and set budgets
See More
Introduction 1
Part I: First Steps 7
Chapter 1: Is Small Business for You? 9
Chapter 2: Buying a Business 25
Chapter 3: Getting into the Franchising Game 41
Part II: Jump In, Get Wet 57
Chapter 4: Planning for Success 59
Chapter 5: Getting the Legals Right 77
Chapter 6: Financing Your Business 99
Part III: Killer Marketing 115
Chapter 7: Creating Your Marketing Plan 117
Chapter 8: Developing Online Strategies 137
Chapter 9: Making Service Your Business 159
Part IV: People Power 177
Chapter 10: Becoming an Employer 179
Chapter 11: The Art of Management 201
Part V: High Finance 221
Chapter 12: Cooking the Books 223
Chapter 13: Understanding Financial Statements 243
Chapter 14: Calculating Margins and Ratios 265
Chapter 15: Taming the Tax Tyrant 281
Part VI: Horses for Courses 303
Chapter 16: Especially for Retailers 305
Chapter 17: Especially for Manufacturers and Wholesalers 325
Part VII: The Part of Tens 343
Chapter 18: Ten Things to Do If You Hit Hard Times 345
Chapter 19: Ten Ways (Almost!) to Make Technology Your Friend 353
Chapter 20: Ten Tips for Selling Your Business 363
Index 373
See More
Veechi Curtis is a qualified accountant and consultant who specialises in small business finance, marketing and technology. She is the author of several business titles, including MYOB® Software For Dummies, 6th Edition and QuickBooks® QBi For Dummies.
See More