E-book
Accounting For Canadians For Dummies, 2nd Edition
ISBN: 978-1-118-22381-9
384 pages
December 2011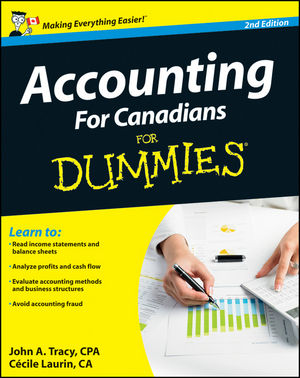 The only guide to accounting tailor-made for Canadians, now revised and updated
Job prospects are good for those looking to enter the Canadian accounting industry, and Accounting For Canadians, Second Edition is the essential resource for anyone interested in doing so. Packed with the information accountants and auditors who work in public and private industries and in government need to know in order to stay on the right side of Canadian accounting law, the book is also a must-have for salary accountants working for accounting, tax preparation, bookkeeping, and payroll services firms.
Essential reading since the new GAAP became mandatory for publicly accountable enterprises and government business enterprises at the beginning of 2011
Covers the new International Financial Reporting Standards
Addresses new standards for private enterprises that business leaders need to know
Still the only trade book that covers Canadian accounting practices
The ideal book for both accounting professionals as well as students who are currently working towards a degree in accounting or auditing services, Accounting For Canadians For Dummies provides the applicable and helpful advice that you need to succeed.
See More
Introduction 1
Part I: Opening the Books on Accounting 11
Chapter 1: Accounting: The Language of Business, Investing, Finance, and Taxes 13
Chapter 2: Financial Statements and Accounting Standards 31
Chapter 3: Bookkeeping and Accounting Systems 53
Part II: Figuring Out Financial Statements 75
Chapter 4: Reporting Revenue, Expenses, and the Bottom Line 77
Chapter 5: Reporting Assets, Liabilities, and Owners' Equity 99
Chapter 6: Reporting Cash Flows 121
Chapter 7: Choosing Accounting Methods: Different Strokes for Different Folks 139
Part III: Accounting in Managing a Business 161
Chapter 8: Deciding the Legal Structure for a Business 163
Chapter 9: Analyzing and Managing Profit 181
Chapter 10: Financial Planning, Budgeting, and Control 203
Chapter 11: Cost Concepts and Conundrums 221
Part IV: Preparing and Using Financial Reports 243
Chapter 12: Getting a Financial Report Ready for Release 245
Chapter 13: How Lenders and Investors Read a Financial Report 267
Chapter 14: How Business Managers Use a Financial Report 289
Chapter 15: Audits and Accounting Fraud 307
Part V: The Part of Tens 319
Chapter 16: Ten Accounting Tips for Managers 321
Chapter 17: Ten Tips for Reading a Financial Report 331
Glossary 341
Index 353
See More
John A. Tracy
(Boulder, Colorado) is Professor of Accounting, Emeritus, at the University of Colorado in Boulder.
Cécile Laurin is Professor of Accounting at Algonquin College and is the coordinator of the professionalaccounting program.
See More