The Triple Bottom Line: How Today's Best-Run Companies Are Achieving Economic, Social and Environmental Success - and How You Can Too, Revised and Updated
ISBN: 978-1-118-22622-3
352 pages
November 2013, Jossey-Bass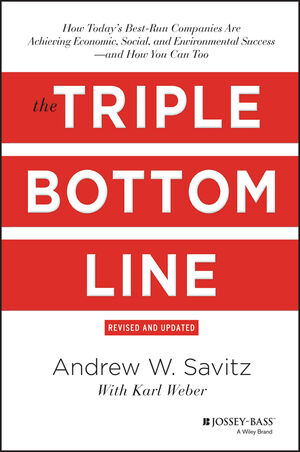 The classic guide to sustainability strategy and implementation—updated for today's businesses
To ensure business success, companies must embrace sustainable management. Firms need to find the overlap between business interests and the interests of society and the environment before they can secure a lasting competitive edge. By making the case for sustainability as a fundamental business practice, The Triple Bottom Line became an instant classic when first published in 2006, showing a generation of business leaders how to find their sustainability sweet spot—where profitability merges seamlessly with the common good. Now updated with ground-breaking stories of successes and failure, this revision of The Triple Bottom Line is a critical resource for all managers and leaders.
Features in-depth success stories of sustainability practices at major firms such as Wal-Mart, GE, DuPont, American Electric Power, and PepsiCo—and shows why companies such as BP and Hershey continue to fail
Draws on Andy Savitz's 25 years of pioneering consulting and research in the field
Includes all-new reporting and analysis on the practice of sustainability and the triple bottom line in business today, providing new insights on where sustainability is headed
The Triple Bottom Line is essential reading for any firm to meet the challenge of creating lasting value for both shareholders and society.
See More
Introduction 1
Part One The Sustainability Imperative 11
1 A Bitter Aftertaste: Hershey Struggles to Master the Sustainability Challenge 13
2 The Sustainability Sweet Spot: How to Achieve Long-Term Business Success 33
3 The Age of Sustainability 53
4 Business Responds 76
5 The Backlash Against Sustainability 92
6 Renewing the Penobscot: ''A More Productive Use of Capital'' 107
Part Two How Sustainability Can Work for You 129
7 Where Do You Stand Today? Your Sustainability Self-Assessment 131
8 Sustainability Jiu-Jitsu: Turning Short-Term Challenges into Opportunities 145
9 Shaping Your Sustainability Strategy 156
10 Implementing Your Sustainability Program 175
11 Managing Stakeholder Engagement 190
12 Dealing with Special Stakeholder Challenges 211
13 Measuring and Reporting Your Progress 237
14 Aligning Your Culture to Support Sustainability 256
15 The Emerging Multipurpose Company 270
Appendix: Creating a Sustainability Management System 289
Notes 300
Acknowledgments 314
About the Authors 320
Index 323
See More
Andrew W. Savitz heads Sustainable Business Strategies, a consultancy that assists organizations to improve their Triple Bottom Line. Previously, he was a lead partner in the sustainability services group at PricewaterhouseCoopers LLP. He served as general counsel of Environmental Affairs for Massachusetts and founded the Massachusetts League of Environmental Voters. He is the author of Talent, Transformation, and the Triple Bottom Line (Jossey-Bass, 2013). Savitz's online newsletter, The Savitz Report, helps companies leverage their human capital to accelerate the transformation to sustainability. Savitz lives in Brookline, Massachusetts.
For more information, please visit getsustainable.net and thesavitzreport.com
Karl Weber is a writer and editor who specializes in business, politics, current affairs, history, and social issues. Among many other books, he coauthored the New York Times bestseller Creating a World Without Poverty with Nobel Laureate Muhammad Yunus. He lives in Irvington, New York, with his wife, Mary-Jo Weber.
See More