French All-in-One For Dummies, with CD
ISBN: 978-1-118-22815-9
720 pages
October 2012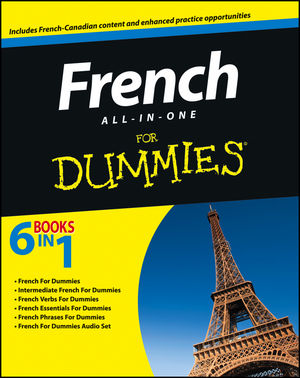 Your comprehensive guide to speaking, reading, and writing in French
French is a beautiful language but can be quite difficult to learn. Whether you need to learn the language for a French class, or for business or leisure travel, French for Dummies All-In-One makes it easier.
With nearly 800 pages, French All-in-One For Dummies is for those readers looking for a comprehensive guide to help them immerse themselves in the French language.
Culls vital information from several Dummies titles, offering you a comprehensive, all-encompassing guide to speaking and using French
Includes French Canadian content and enhanced practiced opportunities
Its accompanying audio CD provides you with en effective tool to start speaking French right away
Both new students of French and experienced speakers can benefit from the wealth of information that has been included in French All-in-One For Dummies.
CD-ROM/DVD and other supplementary materials are not included as part of the e-book file, but are available for download after purchase.
See More
Introduction  1
Book I: Speaking in Everyday Settings  7
Chapter 1: Warming Up with Some French Fundamentals 9
Chapter 2: Un, Deux, Trois: Numbers, Dates, and Times 27
Chapter 3: Greetings, Goodbyes, and Small Talk 45
Chapter 4: Getting Personal: Discussing Your Home, Family, and Daily Routine 63
Chapter 5: Talking Business and Politics 85
Chapter 6: Shopping at a Store and Online 101
Chapter 7: Buying, Preparing, and Tasting Foods 121
Book II: Exploring and Wandering About  143
Chapter 1: Making Plans and Discovering New Places 145
Chapter 2: Enjoying a Night on the Town 179
Chapter 3: Money Matters 201
Chapter 4: Home Is Where Your Suitcase Is: Looking for Accommodations 213
Chapter 5: Getting Around 229
Chapter 6: Dealing with Emergencies 249
Book III: Building the Grammatical Foundation for Communication  265
Chapter 1: Building Strong Sentences with the Parts of Speech 267
Chapter 2: All Agreed? Matching Gender and Number of Nouns and Articles 289
Chapter 3: Dealing with the Here and Now: The Present Tense 305
Chapter 4: Commanding and Instructing with the Imperative Mood 331
Chapter 5: Asking and Answering Questions 349
Chapter 6: Communicating Clearly with Infinitives and Present Participles 369
Book IV: Getting Down to Detail and Precision in Your Communication  379
Chapter 1: Specifying Relationships with Prepositions 381
Chapter 2: Describing with Flair: Adjectives and Adverbs 401
Chapter 3: Taking Shortcuts with Object Pronouns 419
Chapter 4: Tying Ideas Together with Conjunctions and Relative Pronouns 439
Chapter 5: Getting That Subjunctive Feeling 453
Chapter 6: What Lies Ahead and What Could Happen: Simple Future and Present Conditional 471
Book V: Going Back in Time  485
Chapter 1: Been There, Done That: Passé Proche and Passé Composé 487
Chapter 2: How Was It? What Was Going On? The Imparfait 503
Chapter 3: To the Past and Beyond: Other Past Tenses 515
Book VI: Appendixes  529
Appendix A: Verb Tables 531
Appendix B: French-English Mini-Dictionary 587
Appendix C: English-French Mini Dictionary 607
Appendix D: Fun & Games 627
Appendix E: About the CD 665
Index  669
See More
Buy Both and Save 25%!
French All-in-One For Dummies, with CD (US $34.99)
-and- Golf All-in-One For Dummies (US $29.99)
Total List Price: US $64.98
Discounted Price: US $48.73 (Save: US $16.25)
Cannot be combined with any other offers. Learn more.