E-book
The Ethics Challenge in Public Service: A Problem-Solving Guide, 3rd Edition
ISBN: 978-1-118-22876-0
360 pages
April 2012, Jossey-Bass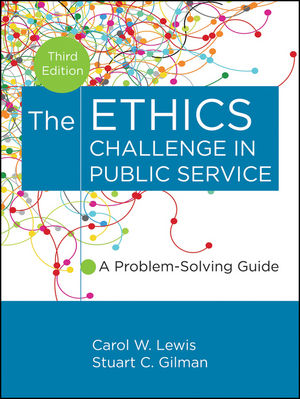 This thoroughly revised and updated third edition of The Ethics Challenge in Public Service is the classic ethics text used in public management programs nationwide. The book serves as a valuable resource for public managers who work in a world that presents numerous ethical challenges every day. It is filled with a wealth of practical tools and strategies that public managers can use when making ethical choices in the ambiguous and pressured world of public service. The book also contains new material on topics such as social networking, the use of apology, ethics as applied to public policy, working with elected officials, and more.
"The Ethics Challenge in Public Service, now in its third edition, continues to be simply indispensable for teaching public service ethics. Thoroughly updated to encompass the latest developments in the field, this new edition adds both a companion website and an instructor's website, further enhancing its value for both students and faculty."
—Guy B. Adams, Harry S. Truman School of Public Affairs, University of Missouri
"If you want to know about ethical decision making in public service, this is the book to read."
—Patricia J. Harned, president, Ethics Resource Center
"This book cuts through the rhetoric and the partisanship right to the heart of ethics in the public service; here is a smooth blend of how and why."
—Carole L. Jurkiewicz, Woman's Hospital Distinguished Professor of Healthcare Management, John W. Dupuy Endowed Professor, Louisiana State University
See More
Exhibits, Tables, and Figures vii
Preface ix
Acknowledgments xix
The Authors xxi
Introduction: Ethics in Public Service 1
PART ONE: ETHICAL DUTIES OF PUBLIC MANAGERS 17
1 What Is Important in Public Service? 19
2 Obeying and Implementing the Law 46
3 Serving the Public Interest 63
4 Taking Individual Responsibility 90
PART TWO: TOOLS FOR INDIVIDUAL DECISION MAKING 113
5 Finding Solid Ground 115
6 Resolving Ethical Dilemmas 141
7 Understanding Who and What Matters 164
PART THREE: ETHICS AND THE ORGANIZATION 189
8 Designing and Implementing Codes 191
9 Broadening the Horizon 225
10 Building an Ethical Agency 247
Afterword: The Job Ahead 277
Resource A: Glossary 285
Resource B: Rules of Thumb—A Summary of Arguments and Recommendations 295
References 299
Name Index 323
See More
Carol W. Lewis is professor emerita of political science at the University of Connecticut. She is a consultant and trainer for public agencies and professional organizations at the local, regional, state, national, and international levels.
Stuart C. Gilman is a consultant in Washington, D.C., working with state and federal government agencies, for large corporations and nonprofit organizations, as well as multinational organizations. He is a former director of the UN Global Programme against Corruption and senior executive with the U.S. Office of Government Ethics.
See More