E-book
Droid Companion
ISBN: 978-1-118-23217-0
304 pages
October 2011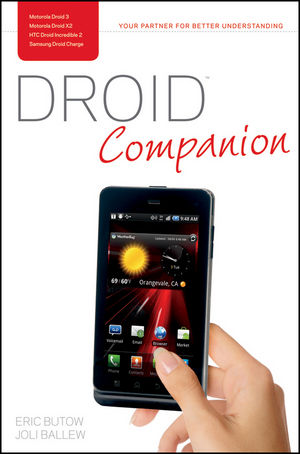 New owner of a Droid? Enjoy it even more with this perfect guide
Congratulations on owning one of the hottest smartphones on the planet—more than 400,000 new Android phones are activated every day! Now get the very most out your new Droid with this handy companion by your side. Covering several versions of the Droid phones in one comprehensive guide, this book provides you with helpful information on everything from setup to the fun features of each Droid model. You'll quickly get up to speed on everything from email, browsing, and calendars to photos, maps, apps, security, and more.
Highlights the new and innovative features of Droids with the use of clear, easy-to-understand descriptions
Covers the Motorola Droid 3, Motorola Droid X2, HTC Droid Incredible 2, and Samsung Droid Charge
Shares helpful details on how to make your Droid uniquely yours and tap into the Android app market
Walks you through the basics such as adding contacts, messaging, emailing, browsing the web, integrating social media, shooting and sharing photos and videos, and more
Helps you use your Droid to communicate more effectively and work more efficiently
Want a friend to help you with your new Droid? Get your very own Droid Companion!
See More
Introduction xiii
Chapter 1 How Do I Get Started with Droid? 1
Chapter 2 How Do I Make the Droid Uniquely Mine? 35
Chapter 3 How Do I Use the Phone and Manage Contacts? 67
Chapter 4 How Do I Use and Manage the Wireless and Cellular Features? 99
Chapter 5 How Do I Get the Most from the Android Market? 119
Chapter 6 How Do I Get the Most from Messaging, Chats, and Email? 139
Chapter 7 How Do I Get the Most from the Web? 175
Chapter 8 How Do I Get the Most from Social Media Integration? 195
Chapter 9 How Do I Best Take, View, Share, and Manage Photos? 215
Chapter 10 How Do I Best Take, View, Share, and Play Music and Video? 245
Chapter 11 How Do I Use the Droid to Communicate and Work More Efficiently? OC1
Index 283
See More
Eric Butow
is the owner of Butow Communications Group (BCG), which provides web development, marketing, technical documentation, and computer-based training services.
Joli Ballew has written more than 40 books for publishers worldwide, including Motorola XOOM Companion.
See More