E-book
AARP Laptops For Dummies, Mini Edition
ISBN: 978-1-118-23226-2
64 pages
November 2011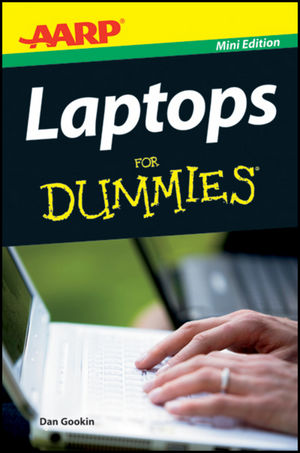 Take technology with you wherever you go!
Get a move on and learn to roam free with this mini guide to choosing and using a laptop. Packed with useful advice on picking a laptop, setting it up, managing power and peripherals, going online, and hitting the road, you'll learn to love your laptop with help from For Dummies. Whether this is your first laptop or a recent upgrade, you'll get the advice you need from laptop to lap-bottom here.
Open the book and find:
Tips for buying the right laptop for you
A tour of your laptop and its features
Explanations of common laptop terms
Maintenance and troubleshooting tips
How to connect to a wireless network
See More
Introduction 1
About This Book 1
Icons Used in This Book 2
Part I: A Laptop of Your Own 3
Laptop Shopping 4
Things to ignore when buying a laptop 4
Things to heed when buying a laptop 5
Software for Your Laptop 6
The operating system 6
Other software 7
Laptop Hardware Buying Decisions 8
Important laptop hardware guts 8
Communications choices 10
Service, Support, and Warranty 11
The Final Step: Buying Your Laptop 12
Part II: The Out-of-the-Box Experience 13
Basic Box Unpacking 13
Set Up Your Laptop 16
Find a place for the laptop 16
Charge the battery! 17
Part III: Getting Around Your Laptop 21
The Standard Laptop Tour 21
Optical drive location 22
Media card storage 22
Removable storage options 23
The PC Card garage 23
A place for the old ball-and-chain 25
The thing's gotta breathe 26
Not a hole, but an eye 26
Those Pluggable-Innable Holes 26
Look at the Pretty Lights! 30
This Isn't Your Daddy's Keyboard 32
The general keyboard layout 33
Where did the numeric keypad go? 35
The Fn key is the Fun key! 37
This Isn't Your Momma's Mouse 39
The touch pad 39
Where is the wheel button? 41
The "happy stick" keyboard mouse 41
Get a real mouse! 42
Part IV: The Wireless Life 45
The Wireless Thing 46
Wireless networking hardware 46
Wireless networking software 48
Hello, Wireless Network! 48
Connecting to a wireless network 48
Connecting to a wireless network when you don't know the network's name 51
Renewing your lease 54
Accessing a pay-service wireless network 54
Disconnecting from a wireless network 55
See More
Dan Gookin is the bestselling author who wrote the first For Dummies book in 1991. With more than 12 million copies in print, his books explain hardware, software, and other tech topics in plain English.
See More