E-book
Office 365 For Dummies
ISBN: 978-1-118-23241-5
336 pages
January 2012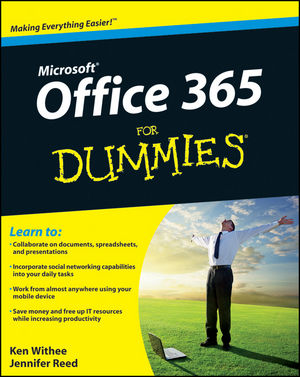 The information you need to create a virtual office that can be accessed anywhere
Microsoft Office 365 is a revolutionary technology that allows individuals and companies of all sizes to create and maintain a virtual office in the cloud. Featuring familiar Office Professional applications, web apps, Exchange Online, and Lync Online, Office 365 offers business professionals added flexibility and an easy way to work on the go. This friendly guide explains the cloud, how Office 365 takes advantage of it, how to use the various components, and the many possibilities offered by Office 365. It provides just what you need to know to get up and running with this exciting new technology.
Examines how Microsoft Office 365 allows individual users and businesses to create a virtual office in the cloud, enabling workers to access its components anytime and from anywhere
Explains the cloud landscape and how Office 365 uses the technology to provide instant access to e-mail, documents, calendars, and contacts while maintaining information security
Covers each element of the Office 365 product, including Office Professional Plus, Exchange Online, SharePoint, and Lync Online
Shows how to take advantage of collaboration, instant messaging, audio/video conferencing, and online productivity tools
In the famous, friendly For Dummies way, this handy guide prepares you to get your head in the cloud and start making the most of Office 365.
See More
Introduction 1
Part I: Recognizing the Cloud Momentum 7
Chapter 1: Getting to Know the Cloud 9
Chapter 2: Moving to the Office 365 Cloud 23
Part II: Getting Connected with E-mail, Calendar, and Contacts 37
Chapter 3: Unleashing the Power of Exchange Online 39
Chapter 4: Giving Productivity a Boost 51
Part III: Exploring SharePoint Online 63
Chapter 5: Collaborating Has Never Been This Easy! 65
Chapter 6: Going Beyond Websites: SharePoint Scenarios 87
Chapter 7: Microsoft Office Integration 103
Chapter 8: Demystifying SharePoint Online Administration 121
Chapter 9: Understanding SharePoint Online Development 139
Part IV: Diving into the Office Web Apps 161
Chapter 10: Introducing the Office Web Apps 163
Chapter 11: Getting into the Word Web App 169
Chapter 12: Plunging into the Excel Web App 179
Chapter 13: Powering Up the PowerPoint Web App 187
Chapter 14: Figuring Out the OneNote Web App 195
Part V: Instant Messaging and Online Meetings 207
Chapter 15: Getting Empowered by Lync Online 209
Chapter 16: Your Presence Unlimited 219
Part VI: Preparing to Move 227
Chapter 17: Meeting Office 365 Requirements 229
Chapter 18: Planning for Your Office 365 Implementation 239
Chapter 19: Implementing Office 365 251
Chapter 20: Managing Office 365 261
Part VII: The Part of Tens 275
Chapter 21: Ten Signs It's Time for You to Move to the Cloud 277
Chapter 22: Ten Office 365 Value Propositions 285
Chapter 23: Ten Tips for Increasing Productivity and Efficiency with Office 365 293
Glossary 299
Index 305
See More
Ken Withee
is a Microsoft Certified Technology Specialist and president of Portal Integrators LLC, specialists in Microsoft SharePoint, SharePoint Online, and Office 365.
Jennifer Reed is a program manager at Microsoft and founder of Cloud611, which specializes in Content Management Systems (CMS), SharePoint, and Office 365.
See More