Dealing with the Tough Stuff: How to Achieve Results from Crucial Conversations
ISBN: 978-1-118-23256-9
216 pages
July 2012, Jossey-Bass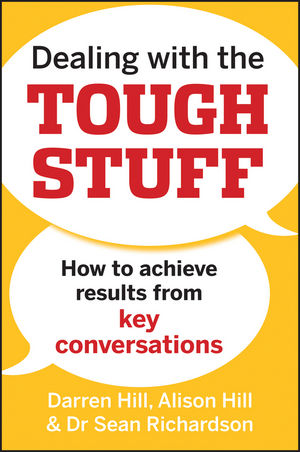 How to handle difficult discussions in the workplace
Packed with practical and pragmatic suggestions and methods for dealing with the tough stuff at work, this unique and helpful book features simple diagnostics, models, and processes that you can put to use immediately.
The author team shares their years of research and experience so that you can benefit from their case studies and examples, all of which are aimed at increasing the confidence of anyone working in a management or leadership role. You'll discover how the science of human behavior—both verbal and nonverbal—plays an enormous role when handling conflict situations and you'll learn how to apply a variety of tools, tips, and strategies when leading critical conversations with empathy and assertiveness.
Explains why avoiding dealing with the tough stuff at work can be so costly for managers, staff, and, ultimately, the business
Features methods and strategies that have been backed by contemporary theory and tested and trialed with thousands of participants
Zeroes in on ways to uncover the root cause of difficult behavior
Shares advice for finding the best way to be assertive in any situation
Reveals techniques for depersonalizing conflict and avoiding language that causes conflict
See More
Preface v
About the authors ix
Acknowledgements xi
Introduction xiii
1 What's your tough stuff? Getting clear on what's tough for you 1
2 Dealing with the tough stuff — foundational skills 9
3 Dealing with the fluff stuff — get more direct in your language and achieve clarity 33
4 Dealing with the unsaid stuff — ensuring maximum leverage from your non-verbal communication 55
5 Dealing with the gruff stuff — addressing anger and managing high emotions 67
6 Dealing with the huff stuff — dealing with resistant, defensive and stubborn behaviour 83
7 Dealing with the bluff stuff — handling emotional manipulation in the workplace 107
8 Dealing with the rough stuff — the big three: restructure, redundancy and dismissal 127
9 Dealing with the off-the-cuff stuff — building skills to handle immediate crisis 149
10 Dealing with enough stuff — prioritising things that matter 165
Conclusion 181
Index 189
See More
Behavioural scientist Darren Hill and psychologists Alison Hill and Dr Sean Richardson are directors of the behavioural strategy company Pragmatic Thinking. They work with top companies in Australia and North America to equip and support managers and leaders to work more confidently with people.
See More