E-book
Mac OS X Lion Server Portable Genius
ISBN: 978-1-118-23348-1
400 pages
March 2012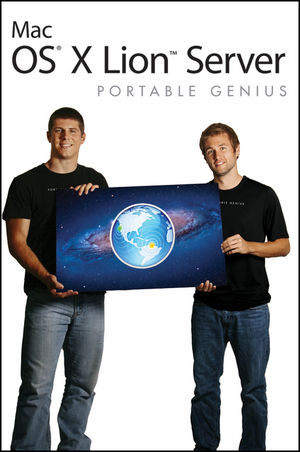 A practical guide to helping users get along with the latest Mac OS X Server
To tame Apple's newest big cat, server OS (Lion), you need a serious, big-game book, and here it is. This guide explains how to administer, deploy, and update the much-anticipated next generation of Mac's OS X Server. Thoroughly covering both hardware and software, this book shows you how to configure services, set up account authentication, use open directory, manage accounts, use Apple Remote Desktop, and much more. You'll also learn how to navigate apps such as iChat Theater, Mail, iCal, Podcast Producer—and still more!
Guides you through Apple's latest OS X Server operating system, Lion
Offers pages of detail on installation, configuration, and management
Shows you how to set up services and manage accounts, as well as use open source applications such as iChat Theater, Mail, iCal, Podcast Producer, and others
Your Mac OS X Lion Server will be purring by the time you get through this book!
See More
Acknowledgments ix
Introduction xviii
Chapter 1 How Do I Install Lion Server? 2
Chapter 2 How Do I Start Building a Network? 20
Chapter 3 How Do I Create Users and Groups? 42
Chapter 4 How Do I Set Up a Web and E-mail Server? 66
Chapter 5 How Do I Enhance Collaboration with Wikis, Blogs, and Chat? 94
Chapter 6 How Can I Share Files, Calendars, and Contacts? 126
Chapter 7 How Can I Create and Share Podcasts? 160
Chapter 8 How Do I Manage Profiles and Devices? 186
Chapter 9 How Do I Keep Data Safe and Secure? 212
Chapter 10 How Can I Make My Server Appear on the Internet? 228
Chapter 11 How Can I Connect to Lion Server Remotely? 258
Chapter 12 How Do I Secure Lion Server? 286
Chapter 13 How Can I Fix Problems and Get More from Lion Server? 314
Appendix A Lion Server Extras and Alternatives 338
Glossary 341
Index 347
See More
Richard Wentk is a developer with more than fifteen years of experience in publishing, covering Apple products and developments for MacWorld UK and MacFormat magazines. His reputation as one of the UK's most reliable technology writers is attributed to his ability to clearly explain the development process in a way that emphasizes benefits, teaches how to avoid pitfalls, and clarifies key points.
See More