E-book
The Sociology of Medical Screening: Critical Perspectives, New Directions
ISBN: 978-1-118-23437-2
168 pages
June 2012, Wiley-Blackwell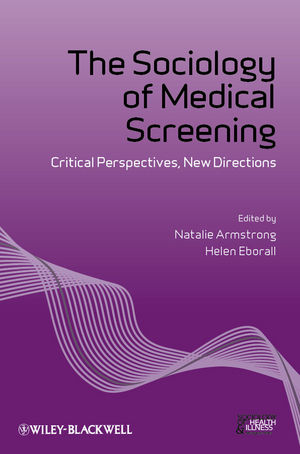 The Sociology of Medical Screening: Critical Perspectives, New Directions
presents a series of readings that provide an up-to-date overview of the diverse sociological issues relating to population-based medical screening.
Features new research data in most of the contributions
Includes contributions from eminent sociologists such as David Armstrong, Stefan Timmermans, and Alison Pilnick
Represents one of the only collections to specifically address the sociology of medical screening
See More
Notes on Contributors vii
1 The sociology of medical screening: past, present and future 1
Natalie Armstrong and Helen Eborall
2 Screening: mapping medicine's temporal spaces 17
David Armstrong
3 The experience of risk as 'measured vulnerability': health screening and lay uses of numerical risk 33
Chris Gillespie
4 Expanded newborn screening: articulating the ontology of diseases with bridging work in the clinic 47
Stefan Timmermans and Mara Buchbinder
5 Resisting the screening imperative: patienthood, populations and politics in prostate cancer detection technologies for the UK 60
Alex Faulkner
6 A molecular monopoly? HPV testing, the Pap smear and the molecularisation of cervical cancer screening in the USA 73
Stuart Hogarth, Michael M. Hopkins and Victor Rodriguez
7 Blind spots and adverse conditions of care: screening migrants for tuberculosis in France and Germany 90
Janina Kehr
8 'Let's have it tested first': choice and circumstances in decision-making following positive antenatal screening in Hong Kong 105
Alison Pilnick and Olga Zayts
9 Representing and intervening: 'doing' good care in fi rst trimester prenatal knowledge production and decision-making 121
Nete Schwennesen and Lene Koch
10 'Wakey wakey baby': narrating four-dimensional (4D) bonding scans 136
Julie Roberts
Index 151
See More
Natalie Armstrong is lecturer in Social Science Applied to Health at the University of Leicester. A medical sociologist, Dr. Armstrong has previously held research posts at the University of Warwick and the London School of Hygiene and Tropical Medicine.
Helen Eborall is lecturer in Social Science Applied to Health at the University of Leicester, having previously worked as a research fellow at the University of Cambridge.
See More
More in this series