E-book
Gender and the City before Modernity
ISBN: 978-1-118-23445-7
272 pages
April 2012, Wiley-Blackwell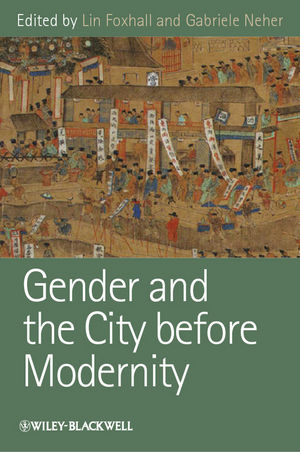 Gender and the City before Modernity
presents a series of multi-disciplinary readings that explore issues relating to the role of gender in a variety of cities of the ancient, medieval, and early modern worlds.
Presents an inter-disciplinary collection of readings that reveal new insights into the intersection of gender, temporality, and urban space
Features a wide geographical and methodological range
Includes numerous illustrations to enhance clarity
See More
Notes on Contributors ix
Introduction 1
LIN FOXHALL and GABRIELE NEHER
1 The Queen and the City: Royal Female Intervention and Patronage in Hellenistic Civic Communities 20
GILLIAN RAMSEY
2 'A Remarkably Patterned Life': Domestic and Public in the Aztec Household City 38
CAROLINE DODDS PENNOCK
3 Women, Property and Urban Space in Tenth-Century Milan 57
ROSS BALZARETTI
4 Towards a Female Topography of the Ancient Greek City: Case Studies from Late Archaic and Early Classical Athens (c.520–400 BCE) 86
LISA C. NEVETT
5 Bodymaps: Sexing Space and Zoning Gender in Ancient Athens 107
JAMES DAVIDSON
6 Ladies who Lounge: Class, Religion and Social Interaction in Seventeenth-Century Isfahan 125
EMMA LOOSLEY
7 The Nanjing Courtesan Ma Shouzhen (1548–1604): Gender, Space and Painting in the Late Ming Pleasure Quarter 140
MONICA MERLIN
8 Squabbling Siblings: Gender and Monastic Life in Late Anglo-Saxon Winchester 163
HELEN FOXHALL FORBES
9 A Father, a Daughter and a Procurator: Authority and Resistance in the Prison Memoir of Perpetua of Carthage 195
KATE COOPER
10 Women's Social Networks and Female Friendship in the Ancient Greek City 213
CLAIRE TAYLOR
11 Seeing is Believing: Urban Gossip and the Balcony in Early Modern Venice 231
ALEXANDER COWAN
Index 249
See More
Lin Foxhall is Professor of Greek Archaeology and History at the University of Leicester. She has written extensively on issues related to gender, agriculture and land use in classical antiquity.
Gabriele Neher is Lecturer in Renaissance Art History at the University of Nottingham. She is also Reviews Editor for the journal Gender & History.
See More
More in this series