E-book
The Handbook of College Athletics and Recreation Administration
ISBN: 978-1-118-23474-7
450 pages
June 2012, Jossey-Bass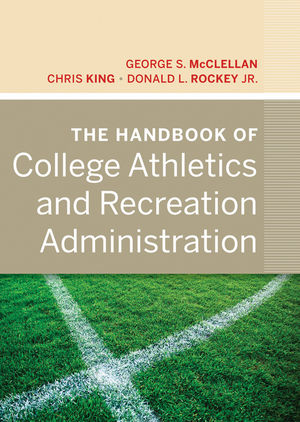 The Handbook of College Athletics and Recreation Administration provides a practical and informative resource for athletics administration, recreation, and fitness practitioners of all levels in both 2 and 4-year institutions, public and private. It is also a resource for graduate students and faculty in sports management programs with an emphasis in collegiate athletics. The book addresses the broad functional areas of collegiate athletic enterprises including intercollegiate athletics, health and fitness, and recreation.
See More
Figures and Tables xi
Preface xiii
Acknowledgments xv
The Authors xix
PART ONE: FOUNDATIONS 1
1 College Athletics: Continuity and Change Over Four Centuries 3
John R. Thelin
2 An Overview of Fitness and Recreation in Collegiate Settings 21
Donald L. Rockey, Jr. and Robert J. Barcelona
3 Theoretical Foundations 44
Mary F. Howard-Hamilton and Joy Gaston Gayles
4 Ethics and Professionalism in College Athletics and Recreation 66
Michael L. Buckner
5 Legal Issues in Intercollegiate Sports and Recreation 83
Barbara Osborne
6 Title IX 107
Valerie M. Bonnette
7 Governance of Intercollegiate Athletics and Recreation 127
B. David Ridpath and Robertha Abney
Part One Case Studies 153
PART TWO: SKILLS 155
8 Managing, Leading, and Supervising Student Employees and Staff 159
Colleen A. McGlone and Stephen Rey
9 Financial Management and Budgeting 175
Timothy D. DeSchriver and Edgar N. Johnson
10 Planning and Managing Facilities 196
James E. Greenwell
11 Managing Events 212
Heather J. Lawrence
12 Managing Friends and Raising Funds 232
David F. Wolf
13 Managing Marketing and Public Relations 246
Scott Branvold
14 Managing Political Environments and Relationships 266
Jeremy Stringer and Bill Hogan
15 Managing Assessment and Evaluation 287
George S. McClellan
Part Two Case Studies 299
PART THREE: ISSUES 301
16 A CEO's Perspective of Athletics and Recreation 303
Michael A. Wartell
17 Dimensions of Diversity 321
C. Keith Harrison, Scott Bukstein, and Walter Brock
18 Health and Wellness Issues 336
David A. Shor, John H. Dunkle, and Carrie A. Jaworski
19 Professional Development and Advancement 355
Chris King and David P. Synowka
20 Summing Up and Looking Ahead 367
George S. McClellan, Donald L. Rockey, Jr., and Chris King
Appendix: Resources for Leadership, Management, and Supervision of Staff and Volunteers 377
Name Index 379
Subject Index 383
See More
George S. McClellan is the vice chancellor for student affairs at Indiana University-Purdue University Fort Wayne.
Chris King is the director of intercollegiate athletics at the University of Texas-Pan American.
Donald L. Rockey, Jr. is associate professor in the Recreation and Sport Management Program at Coastal Carolina University.
See More
Learn more about