E-book
Increasing Persistence: Research-based Strategies for College Student Success
ISBN: 978-1-118-23484-6
512 pages
June 2012, Jossey-Bass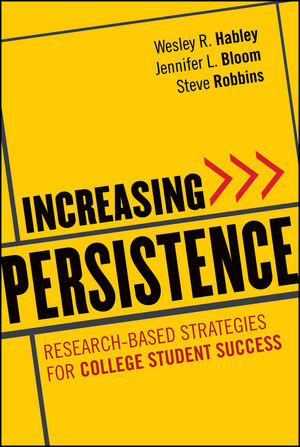 What really works in student retention?

Increasing Persistence offers a compendium on college student persistence that bridges the gaps between theory, research, and successful practice. Anchored by ACT, Inc.'s 2010 What Works in Student Retention survey of 1,100 colleges and universities, which provides insights on the causes of attrition and identifies retention interventions most likely to enhance student persistence, the book provides decision-makers and practitioners with evidence-based interventions and best practices for improving student success in college.
See More
Preface xiii
The Authors xxix
Acknowledgments xxxiii
Section 1: What Do We Know
About Retention and Persistence to Degree? 1
1 Defining, Refining Perspectives on Student Success 3
2 Overview of Theoretical Perspectives on Student Success 19
Section 2: The Case for Intensified Campus Efforts 41
3 The Demographic Challenge 43
4 Public and Private Benefits of College 63
5 Retention or Recruitment: Examining the Return on Investment 79
Section 3: Core Components of Student Success 99
6 Institutional Culture and Student Engagement 101
7 Academic Preparation 117
8 Psychosocial Characteristics 137
9 Career Development 161
10 Assessing the Impact of Academic, Psychosocial, and Career Development Factors on College Student Success 181
Section 4: Proven Student Success Practices 211
11 Historical Perspective on What Works in Student Retention 213
12 Assessment and Course Placement 235
13 Development Education Initiatives 255
14 Academic Advising 283
15 First-Year Transition Programs 311
Section 5: Making Student Success a Priority 335
16 Expanding the Retention Framework: Implications for Public and Institutional Policy 337
17 Creating a Student Success Culture 363
18 Leading the Campus to Student Success 383
Appendices
A What Works in Student Retention, 2004 Survey 397
B What Works in Student Retention? 411
References 425
Name Index 453
Subject Index 459
See More
Wesley R. Habley is principal associate in educational services and coordinator of State Organizations at ACT, Inc. He is also coeditor of Academic Advising: A Comprehensive Handbook from Jossey-Bass.
Jennifer L. Bloom is clinical professor and director of the Master's Degree Program in Higher Education and Student Affairs at the University of South Carolina.
Steve Robbins is principal research scientist in the Center for Academic and Workforce Readiness and Success. Formerly, Robbins served as vice president of research at ACT, and as professor and chair of Psychology at Virginia Commonwealth University.
See More
Learn more about