E-book
Counseling and Psychotherapy Theories in Context and Practice Study Guide, 2nd Edition
ISBN: 978-1-118-23506-5
224 pages
May 2012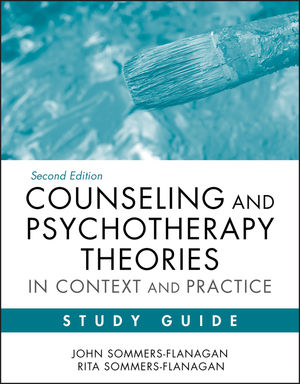 Expand and reinforce your understanding of counseling and psychotherapy theories
This supplementary resource to Counseling and Psychotherapy Theories in Context and Practice, Second Edition will further deepen your understanding of three key components of counseling and psychotherapy theory and practice: self-awareness, knowledge, and application and skill development.
This Study Guide offers:
A pre-test and post-test in each chapter that will orient you to key theoretical principles and evaluate how well those principles fit with your values and beliefs

An opening and closing professional development essay written by a student, practitioner, or faculty member who is active within the counseling or psychology professions

Multiple-choice practice tests for each chapter to reinforce important theories and concepts

A comprehensive short-answer question review for each chapter

Practice activities designed to help students experience and practice implementation of each theory

Critical reflections on each theory

Crossword puzzles to keep learning fun

A glossary of key terms for each chapter
Instructor Site: www.wiley.com/go/counselingtheories
Student Resource Site: www.wiley.com/go/counselingtheories
See More
Acknowledgments vi
Introduction vii
About the Authors xiii
Chapter 1 Learning About Psychotherapy and Counseling 1
Getting Ready 2
Theory Review 5
Professional Development Takeout (aka Practice Activities) 11
Testing Yourself 12
Closing Reflections 21
Chapter 2 Learning About Psychoanalytic Approaches 25
Getting Ready 25
Theory Review 28
Practice Activities 36
Testing Yourself 38
Closing Reflections 49
Chapter 3 Learning About Adlerian Approaches 53
Getting Ready 54
Theory Review 57
Practice Activities 63
Testing Yourself 70
Closing Reflections 80
Chapter 4 Learning About Existential Approaches 85
Getting Ready 86
Theory Review 90
Practice Activities 94
Testing Yourself 98
Closing Reflections 107
Chapter 5 Learning About Person-Centered Approaches 111
Getting Ready 111
Theory Review 116
Practice Activities 120
Testing Yourself 124
Closing Reflections 132
Chapter 6 Learning About Gestalt Therapy Approaches 137
Getting Ready 138
Theory Review 141
Practice Activities 147
Testing Yourself 149
Closing Reflections 158
Chapter 7 Learning About Behavioral Therapy Approaches 161
Getting Ready 161
Theory Review 165
Practice Activities 171
Testing Yourself 174
Closing Reflections 183
Chapter 8 Learning About Cognitive-Behavioral Approaches 187
Getting Ready 187
Theory Review 192
Practice Activities 198
Testing Yourself 200
Closing Reflections 209
Chapter 9 Learning About Choice Theory and Reality Therapy Approaches 213
Getting Ready 213
Theory Review 216
Practice Activities 222
Testing Yourself 225
Closing Reflections 234
Chapter 10 Learning About Feminist Theory and Therapy Approaches 239
Getting Ready 239
Theory Review 244
Practice Activities 249
Testing Yourself 258
Closing Reflections 269
Chapter 11 Learning About Constructive Therapy Approaches 273
Getting Ready 274
Theory Review 278
Practice Activities 284
Testing Yourself 286
Closing Reflections 296
Chapter 12 Learning About Family Systems Theory and Therapy Approaches 301
Getting Ready 301
Theory Review 306
Practice Activities 310
Testing Yourself 312
Closing Reflections 322
Chapter 13 Learning About Multicultural Theory and Therapy Approaches 325
Getting Ready 325
Theory Review 330
Practice Activities 335
Testing Yourself 338
Closing Reflections 348
Chapter 14 Learning About Integrative and New Generation Therapy Approaches 351
Getting Ready 351
Theory Review 356
Practice Activities 361
Testing Yourself 362
Closing Reflections 371
Appendix A Answer Keys 375
References 391
See More
John Sommers-Flanagan
has a PhD in psychology and is Professor of Counselor Education at the University of Montana. He serves as a mental health consultant for Trapper Creek Job Corps. His research interests include clinical interviewing, parent consultations, and adolescent psychotherapy.
Rita Sommers-Flanagan is Professor of Counselor Education at the University of Montana. She provides mental health consultation at the Missoula Veterans Center and Trapper Creek Job Corps. She has taught and written in the area of applied, practical ethics for the past fifteen years.
John and Rita have coauthored seven books, including Clinical Interviewing, Fourth Edition; Becoming an Ethical Helping Professional: Cultural and Philosophical Foundations; and How to Listen so Parents Will Talk and Talk so Parents Will Listen (all published by Wiley).
See More