E-book
Coaching for Leadership: Writings on Leadership from the World's Greatest Coaches, 3rd Edition
ISBN: 978-1-118-23531-7
352 pages
March 2012, Pfeiffer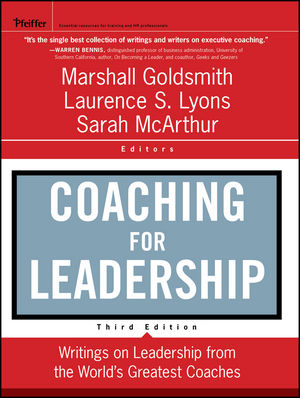 PRAISE FOR COACHING FOR LEADERSHIP
"What a resource! In Coaching for Leadership, the world's best coaches come together to present an advanced tutorial on the art of coaching. Anyone interested in becoming an executive coach, either as an individual practice or within his or her organization, must immediately buy and read this essential hands-on guide"
—Sally Helgesen, author The Female Vision and The Web of Inclusion
"This exceptional book is a must read for individuals at all levels of organization. Coaches, HR managers, and executives hoping to become coaches will benefit greatly from the concepts, practices, and techniques brought to light in Coaching for Leadership."
—Vijay Govindarajan, professor at Tuck School of Business at Dartmouth; best-selling author of The Other Side of Innovation: Solving the Execution Challenge
"This book is very important and valuable for executives who are reaching retirement and moving into another important area of contribution: coaching others to become effective executives. It is no less significant for corporate HR executives who are increasingly called upon to manage coaching interventions on behalf of their companies' leaders."
—D. Quinn Mills, professor, Harvard Business School
"Coaching for Leadership explores powerful new ways to motivate your entire organization. Individuals at every level of the company will benefit from the concepts in this book."
—Ken Blanchard, author, Leading at a Higher Level and The One-Minute Manager
See More
Foreword xiii
Dedication xxi
Preface to the Third Edition xxiii
Preface to the Second Edition xxvii
Preface to the First Edition xxxi
Acknowledgments xxxv
About the Editors xxxvii
PART I: FOUNDATIONS OF COACHING 1
1 Coaching for Behavioral Change 3
Marshall Goldsmith
2 Coaching at the Heart of Strategy 10
Laurence S. Lyons
3 Situational Leadership and Executive Coaching 24
Paul Hersey and Roger Chevalier
4 Coaching and Consultation Revisited: Are They the Same? 35
Edgar H. Schein
5 Demystifying the Coaching Mystique 44
Dave Ulrich and Jessica K. Johnson
PART II: PORTRAIT OF A LEADER 55
6 The Accomplished Leader 57
Laurence S. Lyons
7 Writing for Leadership: Penning Your Leadership Voice 71
Sarah McArthur
8 Seeking Value in a Shattered World of Work 78
Nathan Lyons
9 The Right Stuff of Leadership 88
John Baldoni
10 The Purposeful Leader: A Purpose Checkup 96
Richard J. Leider
11 When Leaders Are Coaches 102
James M. Kouzes and Barry Z. Posner
PART III: CHALLENGES AND FORCES OF CHANGE 111
12 Awareness Coaching for Men and Women 113
Sally Helgesen
13 Coaching to Empower 121
R. Roosevelt Thomas, Jr.
14 Leading Across National Boundaries 131
Dr. Terence H. Kwai
15 Coaching for Governance 138
Anna Bateson
16 Leadership Insight: Going Beyond the Dehydrated Language of Management 148
Nancy J. Adler
PART IV: RECOGNIZING AND DEVELOPING HIGH-POTENTIALS 163
17 Coaching for Engagement and Retention 165
Beverly Kaye and Beverly Crowell
18 Coaching Future Lawyer-Leaders: A Case Study 172
John Alexander
19 Team Building Without Time Wasting 180
Marshall Goldsmith and Howard Morgan
20 Leaders Building Leaders: High-Potential Development and Executive Coaching at Microsoft 186
Shannon Wallis, Brian O. Underhill, and Carol Hedly
21 The Care and Feeding of Hi-Po Leaders 204
Paul Hersey
22 Mentoring Is Circular 210
Frances Hesselbein
PART V: INTO ACTION 215
23 Effectively Influencing Decision Makers: Ensuring That Your Knowledge Makes a Difference 217
Marshall Goldsmith
24 From the FastForward Playbook: Successfully Transition into Bigger Roles 223
Patricia Wheeler
25 Strength in Numbers: The Advantage of Being a Top Team 229
Lawrence S. Levin
26 Double Your Value 238
Mark C. Thompson and Bonita S. Buell-Thompson
27 Creating Winners in the Career Game: What Every Player and Coach Needs to Know 244
Stephen A. Miles and Nathan Bennett
PART VI: COACHING MODELS AND TOOLS 251
28 Coaching Tools for the Leadership Journey 253
Ken Blanchard, Madeleine Homan Blanchard, and Linda Miller
29 Try FeedForward Instead of Feedback 264
Marshall Goldsmith
30 Three Types of Hi-Po and the Realise2 4M Model: Coaching at the Intersection of Strengths, Strategy, and Situation 270
Professor P. Alex Linley and Nicky Garcea
31 Coaching High-Potential Women: Using the Six Points of Influence Model for Transformational Change 279
Barbara Mintzer-McMahon
PART VII: COACHING FOR LEADERSHIP—PREMIUM WEB CONTENT 291
The following materials are available for download from www.pfeiffer.com/go/GoldsmithCF3
password: professional
32 Ten Suggestions for Successful Peer Coaching
Robert M. Fulmer and John E. Brock
33 Coaching Executives for Succession: A Three-Phase Approach
Linda D. Sharkey
34 Why 360s Don't Work and How They Can
Marc Effron and Miriam Ort
35 Leadership and Power: Where Responsibility Makes the Difference
Bruce Lloyd
36 Coaching Executives: Women Succeeding Globally
Nancy J. Adler
37 Coaching the Coaches
Dave Ulrich
Notes 293
Index 303
See More
MARSHALL GOLDSMITH, Ph.D., is one of a select few executive advisors who have been asked to work with over 120 major CEOs and their management teams. A million-selling author, his books include the New York Times bestsellers, MOJO and What Got You Here Won't Get You There, a Wall Street Journal #1 business book and Harold Longman Award winner for Business Book of the Year.
LAURENCE S. LYONS, Ph.D. specializes in global change initiatives and director coaching in large organizations. A former technical director at Digital, Lyons brings over 20 years hands-on industrial and commercial experience to his coaching practice. He is the author of this book's companion edition, The Coaching for Leadership Case Study Workbook, which features Dr. Fink's Leadership Casebook and includes A Guide to Organizational Life which presents a new management paradigm that is applicable to the 21st Century.
SARAH MCARTHUR is founder of *sdedit. With nearly two decades of experience in the publishing field, she is an expert in the field of management, leadership, and executive coaching writing. She is co-editor of the Choice Top 10 Leadership Title, The AMA Handbook of Leadership.
See More