E-book
Web Design For Dummies, 3rd Edition
ISBN: 978-1-118-23554-6
352 pages
March 2012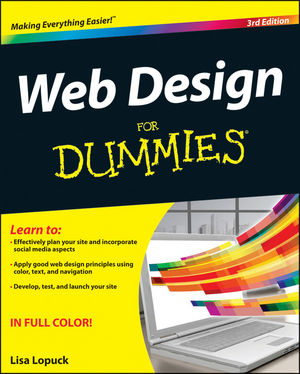 Get up to speed on the newest technologies, tools, and possibilities in web design
Have a great idea for a web site but don't know where or how to begin? Web Design For Dummies, 3rd Edition is an ideal starting point! Fully updated to cover the latest and the greatest in the world of web design, this fun-but-straightforward guide gets you caught up with everything you need to know to organize your ideas, create a template, start development, test to make sure everything is working properly, and launch your finished site. Packed with invaluable advice on incorporating social media aspects, linking content with social sites, and designing for mobile devices, this book will have you web designing like a pro in no time.
Highlights the many significant changes in the world of web design since the previous edition, including the introduction of HTML5, new technologies for sharing media, mobile web design, and more
Zeroes in on effectively using color, text, and navigation
Reveals helpful advice for avoiding common pitfalls
Details ways to connect with social sites like Twitter and Facebook
Web Design For Dummies, 3rd Edition goes beyond just making a basic web site and instead encourages you to create a site that is appealing, practical, and useful.
See More
Introduction 1
Part I: The Web Design Kick-Off 7
Chapter 1: So You're Designing a Website 9
Chapter 2: From Concept to Execution 19
Part II: User-Friendly Design 35
Chapter 3: Designing the Right Site for the Right Crowd 37
Chapter 4: Organizing and Navigating Web Content 59
Chapter 5: User Interface Design for the Web 77
Chapter 6: User Testing: Lab Coats Not Required 95
Part III: Designing Web Graphics 111
Chapter 7: Web Graphic Design 101 113
Chapter 8: Letter-Perfect Type Design 133
Chapter 9: Understanding Web Color, Resolution, and File Formats 151
Chapter 10: Building Your Web Comps 173
Chapter 11: Getting Inspired: Web-Design Ideas 189
Chapter 12: Presenting Your Design Masterpiece 209
Part IV: Producing the Final Website 219
Chapter 13: Building the Presentation Layer 221
Chapter 14: Platform Selection, Content Management, Analytics, and SEO 239
Chapter 15: Websites on Steroids 263
Part V: The Part of Tens 285
Chapter 16: Ten Tips for Managing Your Web-Design Business 287
Chapter 17: Ten Information and Interaction Design Tips 301
Chapter 18: Ten Things That Can Go Wrong 311
Index 321
See More
Lisa Lopuck is an experienced digital creative executive with over 20 years building, inspiring, and leading creative teams; managing vendors; overseeing digital department and project budgets, brand identity, packaging, and pointof-sale design; and guiding innovation and best practices for web, mobile, social media, and e-commerce projects.
See More