E-book
Framing Decisions: Decision-Making that Accounts for Irrationality, People and Constraints
ISBN: 978-1-118-23564-5
304 pages
October 2012, Jossey-Bass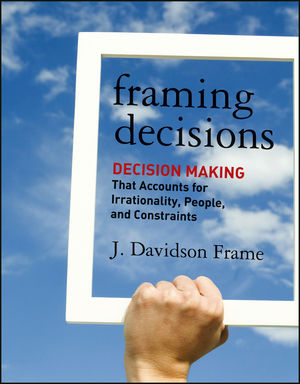 The economic crisis of 2008–2009 was a transformational event: it demonstrated that smart people aren't as smart as they and the public think. The crisis arose because a lot of highly educated people in high-impact positions— political power brokers, business leaders, and large segments of the general public—made a lot of bad decisions despite unprecedented access to data, highly sophisticated decision support systems, methodological advances in the decision sciences, and guidance from highly experienced experts. How could we get things so wrong? The answer, says J. Davidson Frame in
Framing Decisions: Decision Making That Accounts for Irrationality, People, and Constraints
, is that traditional processes do not account for the three critical immeasurable elements highlighted in the book's subtitle— irrationality, people, and constraints.
Frame argues that decision-makers need to move beyond their single-minded focus on rational and optimal solutions as preached by the traditional paradigm. They must accommodate a decision's social space and address the realities of dissimulation, incompetence, legacy, greed, peer pressure, and conflict. In the final analysis, when making decisions of consequence, they should focus on people – both as individuals and in groups.
Framing Decisions offers a new approach to decision making that gets decision-makers to put people and social context at the heart of the decision process. It offers guidance on how to make decisions in a real world filled with real people seeking real solutions to their problems.
See More
List of Figures xi
Preface xiii
1 An Evolving Decision-Making Paradigm 1
The Traditional Paradigm 3
The Real World 5
Rethinking Decision Making 8
The Cognitive Challenge 15
Adjusting to the New Paradigm 16
Conclusion: It Isn't Easy Getting It Right 18
2 Decisions and Decision Making 21
Different Perspectives on Decision Making 25
Rational, Irrational, Nonrational Decisions 38
Dealing with Unknowns 42
3 The Social Context of Decision Making 47
The Social Context 49
The Social Space of Decision Making 51
Allison's Multiple Perspectives on Decision Making 52
The Link Between Stakeholder and Decision-Maker 55
The Implementation Challenge 56
Accommodating External Forces 57
Conclusion 58
4 The Organizational Dimension 61
Organizational Structure 62
Organizational Process 69
People in Organizations 71
Organizational Culture 72
Conclusion 85
5 The Moral Dimension 87
Broad Categories of Moral Failings 89
Moral Hazard 101
Principal-Agent Dilemma 107
Morality, Ethics, and Legality: They Are Diff erent 109
Last Word 111
6 People as Decision-Makers 115
Factors That Affect How Individuals Make Decisions 116
A Unique Perspective on Personality and Decision Making: Elliott Jaques, Human Capability, and Time Span of Discretion 135
Conclusion 138
7 The Wisdom–and Foolishness–of Crowds 141
Individual Versus Group Decision-Participation Spectrum 141
Making Decisions in Groups 148
Degrees of Consensus 150
Defining Consensus 150
Reaching a Decision 159
The Wisdom and Foolishness of Crowds 162
Honeybee Decision Making 173
8 The Biology of Decision Making 177
Brain Basics 178
The Lazy Brain 179
Visual Illusions: What You See Isn't What You Get 186
Examples of Visual Illusions 189
Brain Deception Beyond Visual Illusions 197
The Maturing Brain 200
Conclusion 207
9 Toward an Empirically Rooted Understanding of Decision Making 211
In the Beginning: Toward an Empirical View 213
Evidence of Unconscious Deliberation in Decision Making: Three Empirical Approaches 214
The Contribution of Empirical Research: Where Do We Stand? 228
Empirical Research on Decision Making in the Neurosciences 232
The Contribution of Neuropsychology Research: Where Do We Stand? 241
The Need for Research on Decisions of Consequence 242
10 Seven Lessons 247
Seven Lessons for Highly Effective Decision-Makers 248
Last Word 258
References 261
Acknowledgments 267
The Author 269
Index 271
See More
J. DAVIDSON FRAME is academic dean and cofounder of the University of Management and Technology (UMT) in Arlington, Virginia, one of the first fully online degree-conferring universities in the United States. Prior to joining the UMT faculty, he served as chairman of the Department of Management Science at George Washington University. Frame is the author of four prior books with Jossey-Bass, including the business bestseller Managing Projects in Organizations, Third Edition. He is a fellow of the Project Management Institute (PMI), where he received PMI's Outstanding Contribution Award and was named PMI's Person of the Year.
See More