E-book
Social Media Metrics For Dummies
ISBN: 978-1-118-23602-4
360 pages
May 2012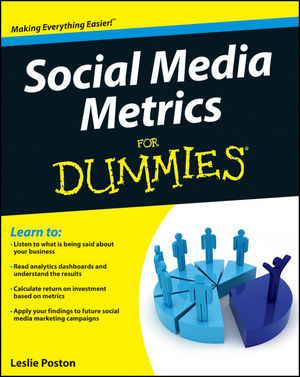 Discover how to gauge your online success based on social media metrics
With so many social media monitoring and measurement tools available, it can be overwhelming to figure out which tool is right for you when it comes to calculating the success of your social media marketing efforts. This fun and friendly guide helps you determine which tool will serve you best for understanding your online audience.
You'll learn to sift through all the information available about social media monitoring and metrics so that you can listen to what is being said about your business, read your analytic dashboard, understand what metrics mean for you, calculate your return on investment (ROI), and apply your findings to future social media marketing campaigns.
Helps you wade through the plethora of social media monitoring and metrics to discover what elements are most applicable to your needs
Explains the meaning behind the social media metrics tools so that you can understand how to make those results work for you
Shares examples of how to calculate both the financial and non-financial return on investment of your social media efforts
Includes real-world case studies that demonstrate how small and large businesses are using social media metrics
With this helpful book by your side, you will learn how to understand the information you acquire regarding your social media marketing efforts and then put that information to work for your business.
See More
Introduction 1
Part I: Metrics? What the Heck Is That? 7
Chapter 1: Social Metrics Aren't Scary; They Just Measure Value 9
Chapter 2: Sorting It All Out 19
Chapter 3: A Tour of a Few Free or Freemium Analytics Solutions 35
Chapter 4: Measuring Everything 51
Part II: Navigating the Measurement Jungle 63
Chapter 5: The Six Stages of Metrics Grief: Turning Chaotic Information into a Business Advantage 65
Chapter 6: Maximizing Listening 75
Chapter 7: Creating Content for Conversion 89
Part III: Putting Your Metrics on Steroids 99
Chapter 8: Becoming a Metrics Guru 101
Chapter 9: Taking Metrics Off the Reservation 113
Chapter 10: Making Your Investment Accountable and COUNTable 125
Part IV: Keeping Your Finger on the Pulse of Living, Breathing Metrics 139
Chapter 11: Avoiding Metrics Bankruptcy: Simple Steps to Avoid Common Metrics Mistakes 141
Chapter 12: Making Metrics Work for Your Brand 153
Chapter 13: Using Branded Metrics for Business Success 165
Part V: Taking the Deep Dive into Advanced Metrics 175
Chapter 14: Mastering Metrics Moves 177
Chapter 15: Making Your Calls-to-Action Work for You 189
Chapter 16: Setting Goals for Winning the Metrics Game 203
Part VI: Predicting Future Metrics 219
Chapter 17: Measuring Mobile App Metrics 221
Chapter 18: Exploring Cutting-Edge Metrics Ideas 231
Chapter 19: Seeing into the Metrics Future 241
Part VII: The Part of Tens 247
Chapter 20: Ten Cool Ways to Use Metrics 249
Chapter 21: Ten Useful Metrics Services 265
Chapter 22: Ten Metrics Tools 275
Index 289
See More
Leslie Poston is the Founder and CEO of Magnitude Media, a media and business consultancy. She coauthored Twitter For Dummies and has written many books, magazine articles, e-books, and blogs. Leslie is an in-demand speaker, headlining at MIDEM, and leads workshops at events such as Book Expo America.
See More