E-book
The Post-Black and Post-White Church: Becoming the Beloved Community in a Multi-Ethnic World
ISBN: 978-1-118-23606-2
224 pages
June 2012, Jossey-Bass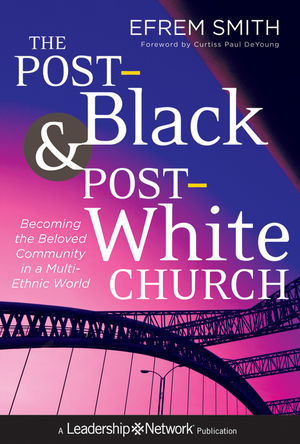 A blueprint for missional, multi-ethnic Christian community
Efrem Smith, an internationally recognized and innovative African-American leader, offers a workable plan for connecting theology, practical ministry models, and real stories of people in multi-ethnic Christian communities. Using the example of Jesus, Smith develops a theology of multi-ethnic and missional leadership. Embracing urban and ethnic subcultures such as hip-hop, this book provides a rich mix of multi-ethnic church development, reconciliation theology, missional church thinking, and Christian community.
Provides a common-sense approach to creating a multi-ethnic Christian community
Includes practical ministry models and real stories of people who are members of thriving multi-ethnic congregations
Author is acclaimed African-American thought leader who planted and led a multi-ethnic churches of close to 1,000 and now leads a regional division of a denominational committed to ethnic, multi-ethnic, and missional churches
This book is written for anyone wrestling with what it means to be a Christian in an increasingly multi-ethnic world polarized by class, politics, and race.
See More
About the Jossey-Bass Leadership Network Series vii
Foreword by Curtiss Paul DeYoung ix
Introduction: Enter the Sanctuary xiii
1 Reconciling, Multi-Ethnic, and Missional 1
2 Moving the Church Beyond Crisis, Captivity, and Comfort 15
3 Compassion, Mercy, and Justice 41
4 Race 65
5 The Gift of the Black Church 93
6 Creating a Post-White Church 117
7 Leadership 145
8 The Beloved Life and Leadership Project 161
9 Starting, Shifting, and Sustaining 185
Notes 201
About the Author 207
Index 209
See More
Efrem Smithis an internationally recognized African-American leader and highly charismatic speaker. He is the former pastor of the Sanctuary Covenant Church and board chair of the Sanctuary Community Development Corporation in Minneapolis, Minnesota. He is now superintendent of the Pacific Southwest Conference of the Evangelical Covenant Church (ECC) denomination, located in Concord, California, and the author of Raising Young Heroes and The Hip-Hop Church.
Leadership Network, a division of OneHundredX, seeks to accelerate the impact of 100X leaders. Since 1996, Leadership Network Publications has presented thoroughly researched and practical concepts from leading thinkers, practitioners, and pioneering churches. www.leadnet.org
See More
More in this series