E-book
College Student Alcohol Abuse: A Guide to Assessment, Intervention, and Prevention
ISBN: 978-1-118-23607-9
400 pages
September 2012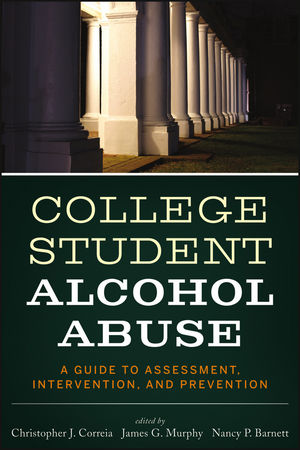 Essential evidence-based strategies for the prevention and reduction of alcohol abuse among college students
With contributions from notable substance abuse researchers, this practical guide presents clear strategies for prevention of and interventions for alcohol abuse in the college-age population.
Ranging from community-based prevention programs to individual, motivational, and interview-based approaches, College Student Alcohol Abuse explores:
The leading theories used to conceptualize college student drinking and related problems, with an emphasis on the clinical implications of each perspective
Epidemiology of student drug use—including illicit drugs and nonmedical use of prescription drugs
The spectrum of empirically supported prevention programs with a focus on best practices and materials
How to conduct assessments and create intervention programs for students with substance abuse problems
A must-have resource for every college administrator, resident staff member, and addiction counselor who works with this unique population, College Student Alcohol Abuse translates the latest research findings and interventions into clear and evidence-based strategies for assessing and treating college students who are abusing alcohol.
See More
Preface vii
Contributors ix
Part I Epidemiology, Consequences, and Risk Factors 1
1 ♦ Prevalence and Consequences of College Student Alcohol Use 3
Ralph W. Hingson and Aaron M. White
2 ♦ College Student Drug Use: Prevalence and Consequences 25
Jeffrey S. Simons, Raluca M. Gaher, Tyler B. Wray, and Ryan N. Reed
3 ♦ Windows of Risk: Events and Contexts Associated With Extreme Drinking 53
Clayton Neighbors, Dawn W. Foster, Nicole Fossos, and Melissa A. Lewis
4 ♦ Theories of College Student Drinking 81
Stephen A. Maisto, Todd M. Bishop, and Eliza J. Hart
Part II Assessment, Intervention and Prevention Strategies 113
5 ♦ Review of Clinical Assessment Tools 115
Matthew P. Martens, Brooke J. Arterberry, Jennifer M. Cadigan, and Ashley E. Smith
6 ♦ Applying Harm-Reduction Strategies on College Campuses 146
Jason R. Kilmer and Diane E. Logan
7 ♦ Campus and Community Interventions to Reduce Alcohol Use, Abuse, and Consequences 166
Anne M. Fairlie, Darin J. Erickson, and Mark D. Wood
8 ♦ Stepped Care in the College Setting 195
Brian Borsari
9 ♦ Brief Motivational Interventions 218
Kate B. Carey
10 ♦ Computerized Interventions 246
William Campbell and Reid K. Hester
11 ♦ Treating Comorbid Disorders 268
Rachel L. Bachrach and Jennifer P. Read
12 ♦ Treating Drug Abuse 289
Meredith A. Terlecki, Anthony H. Ecker, Amy L. Copeland, and Julia D. Buckner
13 ♦ The Role of Training and Supervision in Delivering Empirically Supported Treatments for College Student Drinkers 312
Nadine R. Mastroleo and Erica Eaton Short
14 ♦ Future Directions in College Student Alcohol Abuse Research and Prevention 339
James G. Murphy, Nancy P. Barnett, and Christopher J. Correia
About the Editors 349
Author Index 351
Subject Index 369
See More
Christopher J. Correia, PhD, is a professor in the Department of Psychology at Auburn University. His research interests include the assessment and treatment of substance use among college students and developing laboratory models to study risky alcohol use. He is a licensed clinical psychologist and serves as the primary clinical supervisor for Auburn's Health Behavior Assessment Center, which provides services to college students.
James G. Murphy, PhD, is an associate professor in the Department of Psychology at the University of Memphis and has published extensively on addiction, brief motivational interventions, and behavioral economics.
Nacncy P. Barnett, PhD, is an associate professor in the Department of Behavioral and Social Sciences and the Center for Alcohol and Addiction Studies at Brown University. She primarily researches substance use among adolescents and young adults, with a focus on critical alcohol-related events and the efficacy of brief interventions.
See More