E-book
The Crisis Counseling and Traumatic Events Treatment Planner, 2nd Edition
ISBN: 978-1-118-23612-3
304 pages
August 2012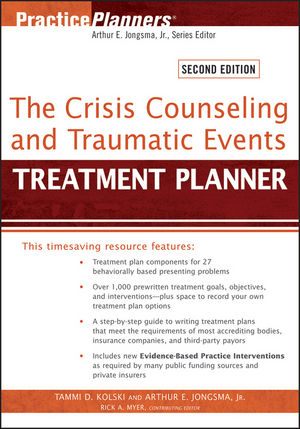 The Crisis Counseling and Traumatic Events Treatment Planner, Second Edition provides all the elements necessary to quickly and easily develop formal treatment plans that satisfy the demands of HMOs, managed care companies, third-party payors, and state and federal agencies.
New edition features empirically supported, evidence-based treatment interventions
Organized around 27 behaviorally based presenting problems including child abuse and neglect, adult and child suicide, job loss, disaster, PTSD, sexual assault, school trauma including bullying, sudden and accidental death, and workplace violence
Over 1,000 prewritten treatment goals, objectives, and interventions—plus space to record your own treatment plan options
Easy-to-use reference format helps locate treatment plan components by behavioral problem
Includes a sample treatment plan that conforms to the requirements of most third-party payors and accrediting agencies including CARF, The Joint Commission (TJC), COA, and the NCQA
See More
PracticePlanners Series Preface xiii
Acknowledgments xvii
Introduction 1
Sample Treatment Plan 9
Acute Stress Disorder 13
Anxiety 21
Bullying Victim 30
Child Abuse/Neglect 39
Crime Victim Trauma 50
Critical Incidents With Emergency Service Providers (ESPs) 58
Depression 64
Disaster 72
Domestic Violence 81
Job Loss 91
Medically Caused Death (Adult) 99
Medically Caused Death (Child) 108
Miscarriage/Stillbirth/Abortion 118
Phobias 127
Posttraumatic Stress Disorder (PTSD) 135
School Trauma (College) 145
School Trauma (Elementary) 153
School Trauma (Pre-Elementary) 160
School Trauma (Secondary) 167
School Trauma (Staff) 176
Sexual Assault 185
Stalking Victim 194
Sudden/Accidental Death (Adult) 202
Sudden/Accidental Death (Child) 212
Suicide (Adult) 221
Suicide (Child) 229
Workplace Violence 238
Appendix A: Bibliotherapy Suggestions 246
Appendix B: Professional References for Evidence-Based Chapters 255
Appendix C: Objective Instruments 266
Appendix D: Index of DSM-IV-TR Codes Associated With Presenting Problems 275
See More
ARTHUR E. JONGSMA, Jr., PhD, is the Series Editor for the bestselling Practice Planners®. Since 1971, he has provided professional mental health services to both inpatient and outpatient clients. He was the founder and director of Psychological Consultants, a group private practice in Grand Rapids, Michigan, for twenty-five years. He is the author or coauthor of over fifty books and conducts training workshops for mental health professionals around the world.
TAMMI D. KOLSKI, MS, is a limited licensed psychologist with over two decades of experience providing behavioral health counseling services in the West Michigan area. Both locally and nationally, she has offered crisis intervention services to thousands of people affected by traumatic events.
RICK A. MYER, PhD, is a professor and chair of the Department of Educational Psychology and Special Services at the University of Texas, El Paso. He is a licensed psychologist with over twenty-five years of experience in crisis intervention and management.
See More