E-book
Medical Billing and Coding For Dummies
ISBN: 978-1-118-23614-7
336 pages
June 2012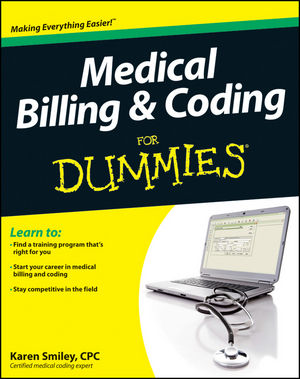 The easy way to start a career in medical billing and coding
With healthcare providers moving to electronic record systems, data accuracy and efficient data processing is more important than ever. Medical offices need professionally trained billers and coders, either in the office or via telecommute, to handle records for internal and external accessibility and efficiency.
Medical Billing & Coding For Dummies gives you everything you need to know to get started in medical billing and coding. It gives you practical, easy-to-follow coverage and advice on how to find a course, educational topics you should review and pursue in order to stay competitive in the field, and the laws and other regulations you'll encounter in your work.
Certification requirements and standard industry practices
Tips for dealing with government agencies and insurance companies
Ethical and legal issues
If you're looking to start a career in the popular field of medical billing and coding, this hands-on, friendly guide has you covered!
See More
Introduction 1
Part I: Getting to Know Medical Billing and Coding 7
Chapter 1: Dipping Your Toes in Medical Billing and Coding 9
Chapter 2: Exploring the Billing and Coding Professions 19
Chapter 3: Weighing Your Employment Options 31
Part II: Boning Up on the Need-to-Knows of Your Profession 41
Chapter 4: Compliance: Understanding the Rules 43
Chapter 5: Not-So-Strange Bedfellows: Medical Terminology and Medical Necessity 57
Chapter 6: Getting to Know the Payers 79
Part III: Keys to Becoming a Professional: Getting Certified 95
Chapter 7: Your Basic Certifi cation Options, Courtesy of the AAPC and AHIMA 97
Chapter 8: The Path to Certifi cation: Finding a Study Program 111
Chapter 9: Signing Up and Preparing for the Certifi cation Exam 129
Chapter 10: Adding Street Cred: Specialty Certifi cations and Continuing Ed 147
Part IV: Dealing with the Nitty-Gritty On-the-Job Details 159
Chapter 11: Processing a Run-of-the-Mill Claim: An Overview161
Chapter 12: Honing In on How to Prepare an Error-free Claim 177
Chapter 13: From Clearinghouse to Accounts Receivable to Money in the Pocket 193
Chapter 14: Handling Disputes and Appeals 203
Chapter 15: Keeping Up with the Rest of the World223
Part V: Working with Stakeholders 235
Chapter 16: Dealing with Commercial Insurance Claims 237
Chapter 17: Caring about Medicare 249
Chapter 18: Client Relations and Coding Ethics: Being an Advocate for Your Employer 261
Part VI: The Part of Tens 277
Chapter 19: Ten Common Billing and Coding Mistakes and How to Avoid Them 279
Chapter 20: Ten Acronyms to Burn into Your Brain 283
Chapter 21: Ten Tips from Billing and Coding Pros 287
Glossary 293
Index 303
See More
Karen Smiley is a certified, multi-specialty coding expert in physician and outpatient reimbursement with an extensive background in commercial, Medicare, and Medicaid claims processing. She is currently a professional coder at an ambulatory surgery center that specializes in orthopedic coding.
See More