E-book
Social Media Marketing For Dummies, 2nd Edition
ISBN: 978-1-118-23630-7
408 pages
March 2012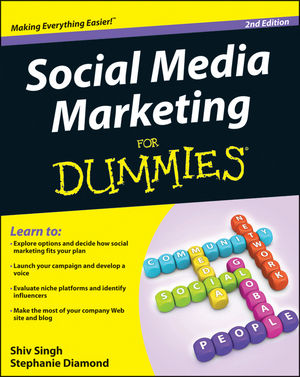 Get the last word on the most up-to-date social media marketing techniques
If you're not tweeting, Facebooking, or blogging by now, your business is getting left behind. Social media marketing is a highly effective way to engage with your customers. It's an easy, inexpensive way to enlarge your audience, add customers, and build your business. This guide provides an indispensable resource for small businesses and start-ups looking for low-cost online marketing strategies, as well as for marketers in larger companies who want to be more involved with social media. Learn which social media sites best fit your business and how to take full advantage of them.
Explore the many aspects of social media, including reviewing sites, monitoring competitors, and fitting social into your current marketing plans
Launch a campaign, develop a voice, reach your audience on key and niche platforms, and embrace the influencers
Identify social media sites that appeal to your target audience and learn which social platform works best for which objectives
Learn to monitor results and assess your program's effectiveness
This straightforward guide is exactly what busy marketers and entrepreneurs need to help them get up and running!
See More
Introduction 1
Part I: Getting Social with Your Marketing 7
Chapter 1: Understanding Social Media Marketing 9
Chapter 2: Discovering Your SMM Competitors 31
Chapter 3: Getting in the Social Media Marketing Frame of Mind 53
Part II: Practicing SMM on the Social Web 73
Chapter 4: Launching SMM Campaigns 75
Chapter 5: Developing Your SMM Voice 95
Part III: Reaching Your Audience via Mainstream Social Platforms 111
Chapter 6: Finding the Right Platforms 113
Chapter 7: Exploring SMM Strategies for Facebook 127
Chapter 8: Marketing on Twitter 139
Chapter 9: Creating a YouTube Strategy 153
Chapter 10: Making foursquare Work for You 167
Chapter 11: Considering LinkedIn 175
Chapter 12: Viewing Google through a Different Lens 193
Chapter 13: Marketing via Niche Networks and Online Communities 203
Chapter 14: Accounting for the Influencers 219
Part IV: Old Marketing Is New Again with SMM 235
Chapter 15: Practicing SMM on Your Website 237
Chapter 16: Becoming an Authentic and Engaged Advertiser 255
Chapter 17: Building an SMM Mobile Campaign 271
Chapter 18: Energizing Your Employees for Social Media Marketing 293
Chapter 19: Applying Metrics to the SMM Realm 309
Chapter 20: Understanding Social Media Governance and Tools 329
Chapter 21: Moving Towards Real-Time Marketing 339
Part V: The Part of Tens 349
Chapter 22: Ten SMM Best Practices 351
Chapter 23: Ten Common SMM Mistakes 357
Chapter 24: Ten SMM-Related Must-Read Blogs 363
Chapter 25: Ten Top SMM Tools 367
Index 371
See More
Shiv Singh
is global head of digital for PepsiCo Beverages. Previously, he worked with Razorfish. Shiv has been published widely, and he has spoken at conferences such as South by Southwest Interactive, the Direct Marketing Association's Leader's Forum, OMMA Global, O'Reilly Graphing Social Patterns, the ARF Annual Summit, and the Social Ad Summit. He has also been quoted in the
Wall Street Journal
and by Reuters, Associated Press,
Adweek
,
Ad Age
, and several other noted publications discussing digital strategy and social influence marketing.
Stephanie Diamond is a thought leader and management marketing professional with years of experience building profits in more than 75 different industries. She has worked with solopreneurs, small business owners, and multibillion dollar corporations. Stephanie's other books include Prezi For Dummies and Dragon Naturally Speaking For Dummies.
See More