E-book
More Teach Yourself VISUALLY Jewelry Making: Techniques to Take Your Projects to the Next Level
ISBN: 978-1-118-23660-4
320 pages
March 2012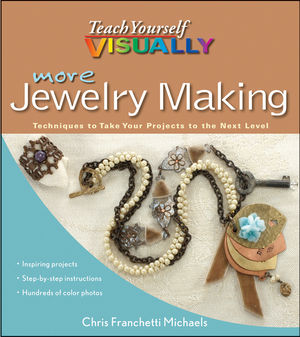 The visual way to advance your jewelry making
Unlike other crafts that focus on a fairly narrow range of techniques and materials, jewelry making is very broad; the techniques encompass everything from bead stringing to metal stamping to working with different types of clay. More Teach Yourself VISUALLY Jewelry Making picks up where Teach Yourself VISUALLY Jewelry Making & Beading leaves off and gives you even more techniques to create new types of jewelry.
Beginning with a concise overview of jewelry making tools and essential techniques, the book gives you technique-specific chapters covering: designing with chain, basic metal work, metal cold connections, sculpting with metal clay, embellishing metal, using adhesives, and working with resin, glaze, and leather. Plus, a chapter of example projects gives you instruction for making 11 unique pieces to add to your jewelry collection.
Step-by-step instructions are accompanied by clear, detailed photos
Features a collection of appealing patterns using the techniques described
Other titles by Chris Franchetti Michaels: Teach Yourself VISUALLY Jewelry Making & Beading, Teach Yourself VISUALLY Beadwork, Beading VISUAL Quick Tips, and Wire Jewelry VISUAL Quick Tips
If you're a beginning to intermediate jewelry maker looking to add up-to-the-minute techniques to your repertoire, More Teach Yourself VISUALLY Jewelry Making has you covered.
See More
CHAPTER 1 Getting Started 2
How to Use This Book 4
Essential Tools and Supplies 6
More Specialized Tools and Supplies 8
CHAPTER 2 Essential Techniques 24
Cut Wire 26
Make and Use Jump Rings 27
Form Wire Links and Wraps 30
String Beads 34
CHAPTER 3 Metal Types and Terminology 36
Metals Used for Making Jewelry 38
Gauge 41
Temper 42
Metal Care and Safety 43
CHAPTER 4 Basic Metal Work 44
Pierce Metal 46
Cut Metal 54
Bend and Shape Metal 62
Transfer a Design to Metal 70
CHAPTER 5 Finishing and Embellishing Metal 72
File and Sand Metal 74
Texturize Metal 78
Polish Metal 80
Use Metal Punch Stamps 82
Color and Stamp Metal with Inks 86
Paint Metal 90
Create a Patina 92
CHAPTER 6 Joining with Cold Connections 96
Join Components with Rivets 98
Make Your Own Rivets 102
Install Miniature Hardware 108
Attach Components with Tabs 110
Stitch with Wire 112
CHAPTER 7 Sculpting with Metal Clay 120
Metal Clay Basics 122
How to Select Metal Clay 124
Form and Shape Metal Clay 128
Join Clay to Clay 136
Attach Findings to Metal Clay 138
Make Settings in Metal Clay 140
Dry and Refine Unfired Clay 142
Fire Metal Clay 144
Finish and Embellish Fired Clay 150
CHAPTER 8 Using Adhesives 152
Types of Adhesives 154
Techniques for Successful Gluing 156
Set a Cabochon, Glass Tile, or Stone 158
Adhere an Image to Glass 164
Attach a Pendant Bail 168
CHAPTER 9 Making Resin Jewelry 170
Types of Jewelry Resin 172
Prepare Two-Part Resin 174
Colorize Resin 176
Apply Resin 178
Cast Resin in a Mold 184
Embed and Layer Resin 186
Cure Resin 190
Refine and Finish Resin 193
CHAPTER 10 Designing with Chain 194
Types of Jewelry Chain 196
Chain Design Considerations 198
Cut or Divide Chain 200
Connect and Finish Chain 204
Make a Chain Tassel 212
CHAPTER 11 Working with Leather 214
Leather Facts 216
Dye Leather 218
Cut Leather 222
Pierce Leather 224
Stamp Leather 226
Seal Leather 228
Hand-Stitch Leather 230
Install Leather Hardware 232
CHAPTER 12 Projects 238
Insect Wing Brass Earrings 240
Filigree and Gemstone Ring 242
Crystal Key Necklace 246
Paint-Stamped Connector Bracelet 249
Impressed Bronze Clay Focals 252
Boho Tooled Leather Cuff  256
Filigree Wrap and Tassel Necklace 262
Pierced Metal Feline Necklace 265
Silver Clay Pinch Beads 273
Mossy Resin Pendant 276
Mixed Verse Necklace 279
APPENDIX Reference Materials 292
Suppliers and Resources 293
General Reference Charts 295
How to Set Up a Jeweler's Saw 299
Index 302
See More
Chris Franchetti Michaels is a writer and jewelry artisan specializing in beaded designs, wirework, and metal fabrication. She is the author of Teach Yourself VISUALLY Jewelry Making & Beading, Teach Yourself VISUALLY Beadwork, Beading VISUAL Quick Tips, and Wire Jewelry VISUAL Quick Tips. Chris is also the Guide to Beadwork on About.com, and she blogs about jewelry making at www.beadjewelry.net.
See More