E-book
Knowledge Automation: How to Implement Decision Management in Business Processes
ISBN: 978-1-118-23679-6
256 pages
February 2012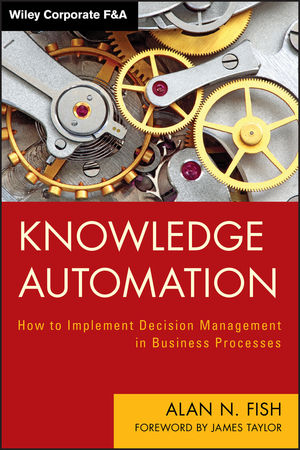 A proven decision management methodology for increased profits and lowered risks
Knowledge Automation: How to Implement Decision Management in Business Processes describes a simple but comprehensive methodology for decision management projects, which use business rules and predictive analytics to optimize and automate small, high-volume business decisions. It includes Decision Requirements Analysis (DRA), a new method for taking the crucial first step in any IT project to implement decision management: defining a set of business decisions and identifying all the information—business knowledge and data—required to make those decisions.
Describes all the stages in automating business processes, from business process modeling down to the implementation of decision services
Addresses how to use business rules and predictive analytics to optimize and automate small, high-volume business decisions
Proposes a simple "top-down" method for defining decision requirements and representing them in a single diagram
Shows how clear requirements can allow decision management projects to be run with reduced risk and increased profit
Nontechnical and accessible, Knowledge Automation reveals how DRA is destined to become a standard technique in the business analysis and project management toolbox.
See More
Foreword ix
Preface xi
Acknowledgments xvii
Chapter 1: The Value of Knowledge 1
The Economics of Knowledge 1
The Knowledgeable Business 7
Notes 14
Chapter 2: Decisions in the Business Process 15
Business Process Modeling 16
Decision Points and Decision Services 17
Redesigning Process Decisions 20
Originations Process Template 33
Approaches to Process Design 36
Notes 39
Chapter 3: Encapsulating Knowledge in Decision Services 41
Business Rules 43
Algorithms 52
Predictive Analytics 56
Putting It All Together 65
Notes 68
Chapter 4: Decision Requirements Analysis 71
Principles 72
Decision Requirements Diagram 73
DRAW 79
Notes 91
Chapter 5: Using DRA in Knowledge Automation Projects 93
DRA in Project Management 94
DRA in Knowledge Discovery 107
DRA in Design 115
DRA in Implementation 124
The Knowledge Production Line 131
Notes 133
Chapter 6: Common Decision Patterns 135
Implementation Types 135
Collaborative Decision-Making 147
Conclusion 155
Glossary 159
Suggested Reading 167
About the Author 171
Index 173
See More
ALAN N. FISH is Principal Consultant in Decision Solutions with FICO: the leader in Decision Management. He is an authority in the use of business rules for decision management with innovations including new methodologies for decision service analysis, design, and development, in particular the technique of Decision Requirements Analysis (DRA). He has over twenty-five years of experience in implementing decision-making systems and has been responsible for many significant IT projects at the forefront of current technology. He has published numerous papers covering such diverse topics as rule-based systems, multi-agent systems, human factors, robotics, and process management.
See More