E-book
Appreciative Inquiry in Higher Education: A Transformative Force
ISBN: 978-1-118-23704-5
256 pages
July 2012, Jossey-Bass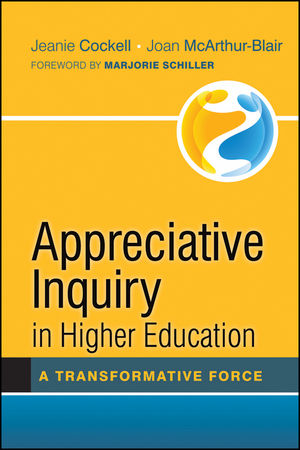 Appreciative Inquiry in Higher Education: A Transformative Force provides practical guidance on how Appreciative Inquiry, long known as a valuable approach and process for change management and group development, can be applied in higher education and make an impact on the next generation of positive change makers.
The authors, noted AI practitioners committed to the use of AI in higher education, weave together their theories, concepts, and unique stories with those of colleagues from around the world to show how AI can harness the drive and imagination of individuals, groups, and institutions. The book builds on the foundations of AI and takes the reader on an ever-deepening journey of how AI can be used to help leaders, practitioners, faculty, and organizational developers achieve new and evolving goals.
Designed as both a thought-provoking and a practical resource, Appreciative Inquiry in Higher Education reveals why AI is such a vital process and shows what it takes to apply AI to such tasks as planning, summits, developing collaborative teams and groups, and teaching and learning. The book gives practitioners the theoretical concepts to ground their work and links AI to the positive psychology and strengths work that has influenced educational approaches in the first decade of the 21st century.
See More
Foreword xiii
Preface xix
Acknowledgments xxi
The Authors xxv
1. Introduction to the Journey 1
The Creative Journey
Provocative Propositions: The Book Unfolding Emergent Design
PART ONE Foundations
2. The Tenets of Appreciative Inquiry 13
Appreciative Inquiry: A Paradigm Shift Principles
Methodology
Doing AI
3. The Passions of Our Practice: Hope and Magic 33
Joan's Journey of Hope
Jeanie's Passion for Magic
Hope and Magic
4. Critical Appreciative Inquiry 51
The Inclusive AI Practitioner
From Issue Focus to Inquiry Focus
Topic Development
Emergent Design
Using Our Influence: Let's Talk
Critical Appreciative Inquiry: An Emerging Model Revisited
5. Being Authentically ALIVE 75
Living Appreciative Inquiry Through Challenging Times
Appreciative Inquiry as a Daily Practice
The ALIVE Model
Being Authentically ALIVE as a Reflective Practice
Being ALIVE
6. Leadership, Possibility, and Appreciative Inquiry 91
Appreciative Leadership Questions
Using the Appreciative Leadership Questions
PART TWO Practice
7. Being an Appreciative Inquiry Practitioner in Higher Education 109
Foundations
TellMe a Story
Creating an Appreciative Climate
Techniques for Alternative Dialogue
Practitioner Practice
8. Planning: Engaged and Inspired 125
SOAR
Examples of AI and Planning in Higher Education
From Process to Final Strategic Plan
Final Thoughts on AI and Planning
9. Summits in Higher Education: Gathering the Force 153
Elements of Higher Education Summits
First Notes on All-Institution Summits
Designing a Summit for Higher Education
Summits to Create Institutional Momentum
Summits as Data Gathering for Strategic Planning
Final Notes on the Symphony of Summits
10. Collaborative Teams and Groups 173
Appreciative Inquiry with Teams
Collaborative Learning Teams
Examples of AI with Teams and Groups in Higher Education Building Collaboration
11. Teaching and Learning 193
Appreciative Inquiry as a Teaching and Learning Framework Teacher as Self
Appreciative Outlook in Teaching
Fostering a Community of Learners
Final Thoughts on Teaching and Learning
12. Leaning Into the Future 211
What If. . .
The People of AI
AI Processes
Embodying AI
Parting Thoughts
References 219
Index 223
To our mothers: Greta Cockell and Ioleen Blair
See More
Jeanie Cockell is an educational and organizational consultant who designs collaborative strategies to surface the wisdom of individuals and groups so that they can build positive futures and respond effectively to change. Her consulting practice is grounded in her adult education background including higher education teaching and leadership roles. She travels worldwide to facilitate workshops, speak at conferences, and consult for clients.
Joan McArthur-Blair is a writer, speaker, and facilitator. She has held roles in higher education from faculty to president, and every day of that journey she cared most deeply about learners, their access to higher education, and their success when there. After more than twenty-five years of institutionally based work, she has returned to her loves of writing, speaking, and facilitating, and works with groups to make a positive difference.
See More
Learn more about