E-book
Hey, Whipple, Squeeze This: The Classic Guide to Creating Great Ads, 4th Edition
ISBN: 978-1-118-23718-2
400 pages
February 2012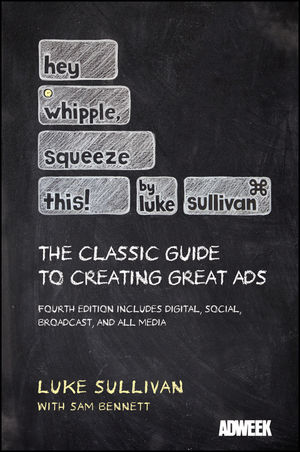 The classic (and irreverent) bestselling guide to creating great advertising
Hey Whipple, Squeeze This has inspired a generation of ad students, copywriters, and young creatives to make their mark in the industry. But students need new guidance to ply their craft now in the digital world. This new fourth edition explains how to bring brand stories into interactive, dynamic places online, in addition to traditional television, radio, print, and outdoor ads.
Creativity is still king, but this new edition contains:
Important new chapters and updates that bring Whipple into the new digital world
New content and examples for how to use social media and other emerging platforms
Illustrate what's changing in the new world of advertising—and what isn't
Hey Whipple, Squeeze This! will help sharpen your writing chops, unleash your creativity, and help raise the level of your work from hack to master craftsman.
See More
FOREWORD MIKE HUGHES xi
PREFACE xiii
CHAPTER 1 Salesmen Don't Have to Wear Plaid
Selling without selling out 1
CHAPTER 2 A Sharp Pencil Works Best
Some thoughts on getting started 14
CHAPTER 3 A Clean Sheet of Paper
Coming up with an idea—the broad strokes 34
CHAPTER 4 Write When You Get Work
Completing an idea—some fi ner touches 90
CHAPTER 5 Concepting for the Hive Mind
Creativity in analog and digital 124
CHAPTER 6 Big Honkin' Ideas
Putting it all together 174
CHAPTER 7 In the Future, Everyone Will Be Famous for 30 Seconds
Some advice on telling stories visually 198
CHAPTER 8 But Wait, There's More!
Seriously, does direct-response TV have to suck? 212
CHAPTER 9 Radio Is Hell. But It's a Dry Heat
Some advice on working in a tough medium 226
CHAPTER 10 "Toto, I Have a Feeling We're Not in McMann & Tate Anymore"
Working out past the edge 252
CHAPTER 11 Only the Good Die Young
The enemies of advertising 258
CHAPTER 12 Pecked to Death by Ducks
Presenting and protecting your work 284
CHAPTER 13 A Good Book or a Crowbar
Some thoughts on getting into the business 312
CHAPTER 14 Making Shoes versus Making Shoe Commercials
Is this a great business, or what? 336
SUGGESTED READING 347
BIBLIOGRAPHY 351
ONLINE RESOURCES 355
NOTES 357
ACKNOWLEDGMENTS 367
INDEX 369
See More
Luke Sullivan
is an award-winning copywriter with over thirty-three years of experience in the business at some of the elite agencies in America—Fallon, The Martin Agency, and GSD&M. He has more than twenty medals to his credit in the prestigious One Show, the Oscars of the ad business, and now chairs the advertising department at the Savannah College of Art and Design.
Sam Bennett is a digital strategist at GSD&M in Austin. She began her career in digital at T3 before coming to GSD&M, where she's managed accounts of national brands like Walmart, John Deere, and BMW. For the last three years, she's focused solely on the digital strategy for Marshalls, Legacy, and Jarritos, as well as for the agency itself.
See More