E-book
The New Technology Elite: How Great Companies Optimize Both Technology Consumption and Production
ISBN: 978-1-118-23727-4
400 pages
February 2012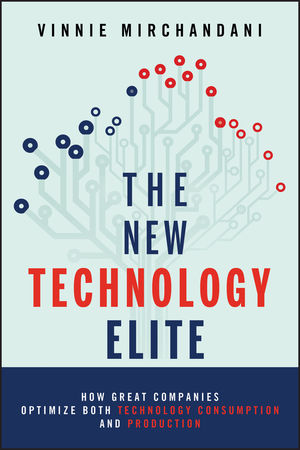 How-to guidance for optimizing incumbent technologies to deliver a better product and gain competitive advantage
Their zip codes are far from Silicon Valley. Their SIC codes show retail, automobile or banking. But industry after industry is waking up to the opportunity of "smart" products and services for their increasingly tech-savvy customers. Traditionally technology buyers, they are learning to embed technology in their products and become technology vendors. In turn, if you analyze Apple, Google, Amazon, Facebook, Twitter and eBay, you marvel at their data centers, retail stores, application ecosystems, global supply chains, design shops. They are considered "consumer" tech but have better technology at larger scale than most enterprises. The old delineation of technology buyer and vendor is obsolete. There is a new definition for the technology elite - and you find them across industries and geographies. The 17 case studies and 4 guest columns spread through The New Technology Elite bring out the elite attributes in detail. Every organization will increasingly be benchmarked against these elite - and soon will be competing against them.
Contrasts the productivity that Apple, Google and others have demonstrated in the last decade to that of the average enterprise technology group
Reveals how to leverage what companies have learned from Google, Apple, Amazon.com, and Facebook to your company's advantage
Designed for business practitioners, CEOs, CFOs, CIOs, technology vendors, venture capitalists, IT consultants, marketing executives, and policy makers
Other titles by Vinnie Mirchandani: The New Polymath: Profiles in Compound-Technology Innovations
If you're looking to encourage technology innovation, look no further. The New Technology Elite provides the building blocks your company needs to become innovative through incumbent technologies.
See More
Preface ix
Acknowledgments xxi
Part I The Convergence of Technology Production and Consumption
Chapter 1 The New Monday Morning Quarterback 3
Case Study: UPS—That's Technology "Amore" 15
Chapter 2 The "Industrialization" of Technology 25
Case Study: HP—The Quest for a "10 Out of 10" Supply Chain 32
Chapter 3 From Amazon to Zipcar: No Industry Untouched 39
Case Study: Roosevelt—Innovation Island 49
Chapter 4 Australia to Zanzibar: No Country for Old Products 57
Case Study: Estonia's "Tiigrihupe"—Tiger Leap 66
Chapter 5 Convergence, Crossover, and Beyond 71
Guest Columns: Crossover Executive Perspectives 84
Perspective 1: Tony Scott (CIO, Microsoft) 84
Perspective 2: Vijay Ravindran (Chief Digital Officer, The Washington Post Co.) 86
Part II Key Attributes for the New Technology Elite: Three Es, Three Ms, Three Ps, and Three Ss
Chapter 6 Elegant: In a World of Flashing 12s 93
Case Study: Virgin America—Redefining Elegance in Flying 103
Chapter 7 Exponential: Leveraging Ecosystems 111
Case Study: RIM's Evolving Ecosystem 119
Chapter 8 Efficient: Amid Massive Technology Waste 123
Case Study: Facebook's Hyperefficient Data Center 133
Chapter 9 Mobile: If It's Tuesday, It Must Be Xiamen 139
Case Study: The Boeing 787 and HCL Technologies 149
Chapter 10 Maverick: No Rules. Just Right. 155
Case Study: Apple—A Thousand "Nos" and Ten Gutsy "Yeses" 163
Chapter 11 Malleable: Business Model Innovation 173
Case Study: Valence Health 186
Chapter 12 Physical: Why Test Driving Is Still Important Even in a Digital World 193
Case Study: Taubman Shopping Centers 205
Chapter 13 Paranoid: But Not Paralyzed 211
Case Study: Wireless Aerial Surveillance Platform 220
Chapter 14 Pragmatic: When Attorneys Influence Technology Even More than Engineers 225
Guest Column: Legal Considerations in Technology Product Launches—Benjamin Kern 233
Chapter 15 Speedy: In a New Era of Perishability 241
Case Study: Corning—The Gorilla Glass Rocket Ride 248
Chapter 16 Social: Amid Chatty Humans and Things 255
Case Study: Lexmark Genesis—A Printer for Our Social Times 265
Chapter 17 Sustainable: Mining the Green Gold 271
Case Study: Google's Green Initiatives 282
Part III Outside Influences on the Technology Elite
Chapter 18 Making Regulators More Tech-Elite 291
Case Study: 3M's "Periodic Table" 299
Chapter 19 Society's Changing View of Technology 305
Guest Column: Smart Products Consumers Can Trust—Professor Mary Cronin 313
Chapter 20 Market Analysts Morphing 317
Case Study: Amazon 2010 Shareholder Letter 323
Endgame: "Welcome to the NFL" 327
Notes 333
About the Author 367
Index 369
See More
VINNIE MIRCHANDANI has been called "The King of Wow" for his keen eye for technology-enabled innovation. His blog, New Florence. New Renaissance, has cataloged 2,500 posts of innovative products, projects, and people in work, life, and play. His last book, The New Polymath (Wiley), was widely praised as an "innovation firehose." He is President of Deal Architect, a technology advisory firm. In prior roles, he was an analyst at Gartner, Inc., a leading technology research firm, and a global consultant at PwC, the advisory firm. He has keynoted at many business and technology conferences and has been quoted in the Wall Street Journal, Bloomberg Businessweek, Financial Times, and other executive and technology publications.
See More