E-book
Evernote For Dummies
ISBN: 978-1-118-23730-4
384 pages
March 2012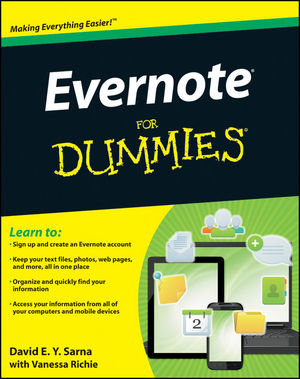 The fun and easy guide to using Evernote for everything that's noteworthy
Voicemail, email, things to do, things to get, people you know, places you've been, places to be... Who can remember it all? You can, with Evernote. Evernote is a free suite of software and services that makes it easy to remember things big and small using your computer, phone, tablet, and the web. If you can see it or think of it, Evernote can help you remember it. Type a text note. Clip a web page. Snap a photo. Grab a screenshot. Evernote makes it easy to keep track of it all, and Evernote For Dummies makes Evernote even easier.
Written in the fun and informative For Dummies style, Evernote For Dummies introduces you to the key features of Evernote, from getting started and opening your own Evernote account to the essentials of capturing information and creating a simple text note. The book shows you how to capture everything—clip a web page, create a voice note, scan a note, even capture a note from a picture. Author David Sarna reveals the secrets of letting Evernote help you organize all your information including how to synchronize; import,export, and merge notes; and store to-do lists, business cards, even items from Facebook and Twitter—plus find it all superfast. Evernote For Dummies makes it easy to use Evernote everyday.
Explains how to download and install Evernote on all your devices, open an account, create notes, clip a web page, save a photo, grab a screenshot, even collect items from social media like Facebook and Twitter
Shares tips on organizing your information by using tags or different notebooks, and on finding what you need—even printed and handwritten text inside images—fast
Includes advice on enhancing Evernote with third-party applications, troubleshooting common problems, and more
Unless you're an elephant who never forgets, you'll want to remember Evernote For Dummies, the most useful guide to the program that remembers it for you.
See More
Introduction 1
Part I: Starting Evernote 7
Chapter 1: What Evernote Can Do for You 9
Chapter 2: Account Management 23
Chapter 3: Creating Simple Notes 41
Part II: Increasing Your Reach 59
Chapter 4: Working with Notes 61
Chapter 5: Working with Audio and Video 71
Chapter 6: Creating Notes from Other Media 85
Part III: Managing Information 105
Chapter 7: Customizing Evernote at Home and Away 107
Chapter 8: Categorizing, Finding, Sorting, and Securing Information 119
Chapter 9: Synchronizing Notes 145
Chapter 10: Sharing Notes and Notebooks 157
Chapter 11: Exporting, Importing, and Encrypting Notes 177
Chapter 12: Moving from Other Products and Interfacing with Your World 187
Chapter 13: Troubleshooting Problems 197
Part IV: Just For You — Device-Specific Features 211
Chapter 14: Computers: Windows and Mac 213
Chapter 15: Working with Evernote on Tablets and Smartphones 225
Chapter 16: Using Evernote on the Web 241
Part V: Expanding Your Skills 259
Chapter 17: Enhancing Evernote with Third-Party Applications 261
Chapter 18: Enhancing Evernote with Shared Public Notebooks 277
Chapter 19: Interfacing with Digital Cameras, Scanners, and Smartpens 283
Part VI: Adding Professional Power 291
Chapter 20: Saving Time with Evernote's Open Scripting 293
Chapter 21: Connecting with the Evernote Community 301
Part VII: The Part of Tens 307
Chapter 22: Ten Home Improvements 309
Chapter 23: Ten Best Business Uses 315
Chapter 24: Ten School Shortcuts 321
Appendix: Evernote for Developers 327
Index 335
See More
David E. Y. Sarna runs WoodallTech, Inc., which is commercializing hydrogen-on-demand. He has authored or co-authored six books, including History of Greed, PC Magazine Windows Rapid Application Development, and Implementing and Developing Cloud Computing Applications. In addition, 120 of David's articles have been published in professional magazines and national newspapers. David also holds several patents.
See More