E-book
Forces for Good: The Six Practices of High-Impact Nonprofits, Revised and Updated Edition
ISBN: 978-1-118-23793-9
464 pages
April 2012, Jossey-Bass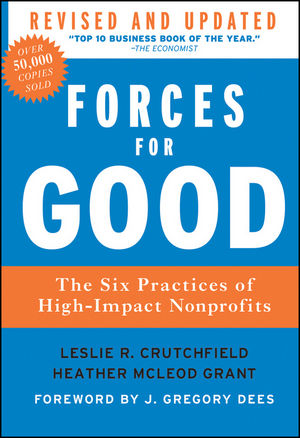 An updated edition of a groundbreaking book on best practices for nonprofits
What makes great nonprofits great? In the original book, authors Crutchfield and McLeod Grant employed a rigorous research methodology derived from for-profit books like Built to Last. They studied 12 nonprofits that have achieved extraordinary levels of impact—from Habitat for Humanity to the Heritage Foundation—and distilled six counterintuitive practices that these organizations use to change the world.
Features a new introduction that explores the new context in which nonprofits operate and the consequences for these organizations
Includes a new chapter on applying the Six Practices to small, local nonprofits, including some examples of these organizations
Contains an update on the 12 organizations featured in the original book—how they have fared, what they've learned, and where they are now in their growth trajectory
This book has lessons for all readers interested in creating significant social change, including nonprofit managers, donors, and volunteers.
See More
Foreword to the Revised and Updated Edition
J. Gregory Dees ix
PART ONE: INTRODUCTION 1
Introduction to the Revised and Updated Edition 3
Introduction to the First Edition 13
PART TWO: ACHIEVING IMPACT 25
1 Forces for Good 27
2 Advocate and Serve 47
3 Make Markets Work 73
4 Inspire Evangelists 101
5 Nurture Nonprofi t Networks 125
6 Master the Art of Adaptation 149
7 Share Leadership 175
8 Sustaining Impact 203
9 Putting It into Practice 233
PART THREE: NEW LESSONS FOR NEW TIMES 251
10 Thriving in Tumultuous Times 253
11 Deepening the Six Practices 269
12 Forces for Local Good 289
13 Forces for Good Diagnostic Tool 321
PART FOUR: APPENDIXES AND RESOURCES 325
Appendix A: Research Methodology for the First Edition 327
Appendix B: Field Experts 341
Appendix C: Case Study Research Guidelines and Questions 345
Appendix D: Original Research Interview List 349
Appendix E: Updated Organization Profi les 355
Appendix F: Research Methodology and Sources for New Material 389
Appendix G: Preface to the First Edition 395
Endnotes 397
Additional Resources 411
Acknowledgments 419
The Authors 425
Index 427
See More
Leslie R. Crutchfield is an author, speaker, philanthropic and nonprofit adviser, and leading authority on scaling social innovation and high-impact philanthropy. She is a senior adviser with FSG Social Impact Consultants and coauthor of Do More Than Give from Jossey-Bass.
Heather McLeod Grant is a consultant, author, speaker, and adviser to high-impact nonprofits and foundations. As a senior consultant at Monitor Institute, her work focuses on scaling social innovations and impact, leveraging networks for social change, and transforming large-scale legacy nonprofits. She also lectures at Stanford University and serves on several nonprofit advisory boards.
Crutchfield and Grant are the coauthors of the first edition of Forces for Good from Jossey-Bass. Visit their web site www.forcesforgood.net
See More