E-book
IT Leadership Manual: Roadmap to Becoming a Trusted Business Partner
ISBN: 978-1-118-23796-0
256 pages
July 2012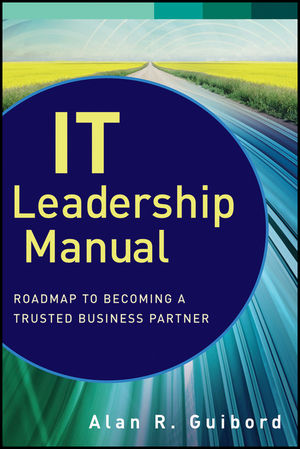 Savvy advice for developing the necessary skills to become a vital part of any management team
Today's IT leaders are faced with an unprecedented leadership and organizational challenge. The entire landscape has changed over the past few years and it is now time for leaders and organizations to re-invent themselves to meet the new order. IT leaders need to redefine their role into one of being a trusted business advisor. IT Leadership Manual provides you with a set of specific recommendations and suggestions to assist you in your self-evaluations and to develop a personal plan for the future. It helps you build the leader in you, as well as how to become a formidable competitor in your own right.
Essential coverage of one of the most demanded IT topics
Helps you redefine your role from IT leader into trusted business advisor
Discusses leadership style, building out your network, achieving balance, the art of sales, and more
Written for IT managers and executives
Helps you transform from the backroom support service to a recognized member of the leadership team
Gives you the tools to migrate to today's expectations; Innovation, collaboration, influencer, trusted advisor
Traditional skills no longer apply. Organizations are now demanding a new set of expectations from IT leaders. IT Leadership Manual reveals how you can adopt new styles to make the transformation from IT manager to top management.
See More
Foreword xi
Preface xv
Acknowledgments xxi
CHAPTER 1 The Journey: Today's Leadership Challenges 1
The New World Order and the IT Challenge 4
Today's Cultures 8
Objective of This Book 12
CHAPTER 2 We Are All Unique 15
Look within Yourself First 16
Self-Evaluation Process 17
Reading Others 18
Make Time for Yourself 19
Know What You Don't Know 22
Journey to Self-Awareness 22
Self-Awareness Exercise 23
Be Prepared 25
Make Time for You and Live in the Moment 26
Seek a Mentor 28
Are You in Balance? 30
What Motivates You? 31
Do You Have Passion? 33
What Will I Be When I Grow Up? 34
Notes 36
CHAPTER 3 Are You Ready to Make a Move? 37
Evaluate Yourself and the New Position 40
Dealing with the Change 43
Do Your Homework 46
The Integration Process 49
Building the Foundation of Trust 52
CHAPTER 4 Developing Your Leadership Style 57
Cast Your Own Shadow 59
Consult a Mentor 63
Leaders Succeed from the Bottom Up, Not the Top Down 66
Building a Strong Team 71
It Is Okay to Be Passionate 75
CHAPTER 5 Soft Stuff Is What Really Matters 79
The Generation Gap 81
Combining Cultures 83
Match Your Style to the Market 85
Ego Gets You Fired 89
Be a Good Communicator 93
CHAPTER 6 How Do You Compete? 99
Competing on the Job Is Not Enough 100
It Isn't Just about Winning 103
Instill Competition in Your Organization 105
Controlled Aggression 106
Politics 109
Understand the Uniqueness of the Environment 113
CHAPTER 7 Do You Have Enough Friends? 119
You Need Friends to Succeed 121
Building a Network Is Critical 124
No Man Is an Island 126
Building a Network 129
Always Be Willing to Help 132
It Is All about Relationships 134
Networks Are Connected 136
CHAPTER 8 What Is Your Balance? 139
Striving and Never Arriving 140
Make Every Day Unique 142
Filter Your Input and Make the Right Decisions 149
Slow Down to the Pace of Life 154
CHAPTER 9 How Good Are You at Sales? 159
Presenting Is Entertaining 162
CEO Means Chief Sales Officer 166
Sales Is Influencing Behavior 169
What Is Your Sales Style? 170
Sales Is the Most Difficult Part of Starting a Business 173
Are You Trustworthy? 174
CHAPTER 10 Are You Ready to Make the Change? 179
Getting Acclimated to the New Company 182
Preparing for the Interview 184
Getting Comfortable in Your New Role 187
Understanding the Culture 192
Learning the Language 193
Identifying and Building Relationships with Power Brokers 197
Integration Is an Ongoing Process 199
CHAPTER 11 Today's New World and How We Cope 201
The Influence of the Internet 202
What Is the Market Looking for in a Leader? 206
The Distributed Workplace 208
Create a Plan for You 210
Become a Mentor Yourself 212
Learn to Present to the Interest of the Audience 214
Bringing It All Together 218
About the Author 223
Index 225
See More
ALAN R. GUIBORD has more than thirty years of global IT leadership experience. The founder and Chairman of The Advisory Council (TAC), Guibord is considered an IT visionary. He has held CIO positions in small to midsized organizations as well as Global Fortune 500 corporations. He served as a member of their top executive teams. Additionally, Guibord has lectured at leading universities, presented to IT leadership groups around the world, and acted as an advisor to several key firms, including Oracle, 3Com, and Microsoft. He is also a coach and mentor to several IT executives.
See More