Wiley's English-Spanish, Spanish-English Chemistry Dictionary, 2nd Edition
ISBN: 978-1-118-23797-7
980 pages
February 2014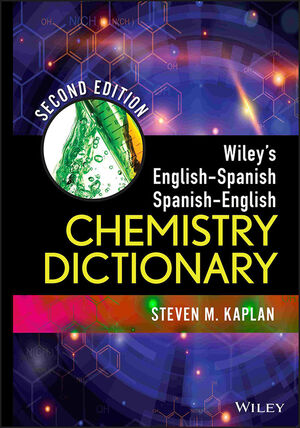 This Dictionary provides over 75,000 entries covering all areas of chemistry, such as Chemical Biology, Biochemistry, Biotechnology, and Nanochemistry, plus relevant terms in related spheres of expertise.  In order to prepare this Second Edition, the First Edition was completely revised, and over 35,000 new terms were added. This new edition will continue to be the Dictionary that chemists, educators, students, translators, and those working in English and Spanish in chemistry and associated fields have been trusting since the First Edition was published in 1998.
See More
Preface and Notes on the Use of This Dictionary v
Prologo y notas sobre el uso de este diccionario vi
Acknowledgments vii
Reconocimientos viii
English to Spanish / Inglés a Espanol
A - Z 3 - 482
Greek Letters 485
Espanol a Ingles / Spanish to English
A - Z 489 - 970
See More
STEVEN M. KAPLAN, MS, after a fully bilingual primary and secondary school education in Puerto Rico, went on to earn a BA from Sarah Lawrence College and an MS from Fordham University. Mr. Kaplan is the author of fourteen scholarly dictionaries in multiple areas of expertise, including chemistry, electrical and computer engineering, psychology and psychiatry, law, and business. Together, these dictionaries provide over 1,000,000 entries.
See More