E-book
Six Sigma For Dummies, 2nd Edition
ISBN: 978-1-118-23804-2
408 pages
September 2012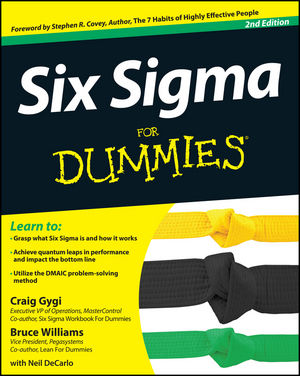 The fast and easy way to understand and implement Six Sigma
The world's largest and most profitable companies—including the likes of GE, Bank of America, Honeywell, DuPont, Samsung, Starwood Hotels, Bechtel, and Motorola—have used Six Sigma to achieve breathtaking improvements in business performance, in everything from products to processes to complex systems and even in work environments. Over the past decade, over $100 billion in bottom-line performance has been achieved through corporate Six Sigma programs. Yet, despite its astounding effectiveness, few outside of the community of Six Sigma practitioners know what Six Sigma is all about.
With this book, Six Sigma is revealed to everyone. You might be in a company that's already implemented Six Sigma, or your organization may be considering it. You may be a student who wants to learn how it works, or you might be a seasoned business professional who needs to get up to speed. In any case, this updated edition of Six Sigma For Dummies is the most straightforward, non-intimidating guide on the market.
New and updated material, including real-world examples
What Six Sigma is all about and how it works
The benefits of Six Sigma in organizations and businesses
The powerful "DMAIC" problem-solving roadmap
Yellow, Green and Black—how the Six Sigma "belt" system works
How to select and utilize the right tools and technologies
Speaking the language of Six Sigma; knowing the roles and responsibilities; and mastering the statistics skills and analytical methods
Six Sigma For Dummies will become everyone's No. 1 resource for discovering and mastering the world's most famous and powerful improvement tool. Stephen Covey is spot-on when he says, "Six Sigma For Dummies is a book to be read by everyone."
See More
Introduction 1
Part I: Getting Acquainted with Six Sigma Basics 7
Chapter 1: Better Business and Better Performance: Defining Six Sigma 9
Chapter 2: Linking Quality and Business 17
Chapter 3: Examining the Principles and Language of Six Sigma 31
Chapter 4: Organizing for Improvement 43
Part II: DMAIC: Defining and Measuring 61
Chapter 5: Identifying and Right-Sizing Projects 63
Chapter 6: Launching a Project 77
Chapter 7: Mapping to Identify Possible Factors 87
Chapter 8: Diagramming to Identify Possible Factors 101
Chapter 9: Describing Performance with Numbers 113
Part III: DMAIC: Analyzing 133
Chapter 10: Depicting and Analyzing Data through Charts and Graphs 135
Chapter 11: Analyzing for Value 155
Chapter 12: What's Normal? Recognizing Normally-Shaped Variation 165
Chapter 13: Assessing Capability: Comparing the Voices of the Customer and the Process 179
Chapter 14: Gauging Gauges: Measurement System Analysis (MSA) 199
Chapter 15: Mining Data and Processes for Insight 209
Chapter 16: Making Confident Decisions 227
Part IV: DMAIC: Improving and Controlling 241
Chapter 17: Forecasting Future Performance 243
Chapter 18: Designing, Conducting, and Analyzing Experiments (DOE) 259
Chapter 19: Standardizing on Improvement 281
Chapter 20: Maintaining Gains through Statistical Process Control 291
Part V: Looking at the Six Sigma Technology Tool Landscape 309
Chapter 21: Eyeing Process Characterization and Optimization Technologies 311
Chapter 22: Tools for Performing Six Sigma Analysis 323
Chapter 23: Managing Six Sigma 331
Part VI: The Part of Tens 343
Chapter 24: Ten Top Do's and Don'ts of Six Sigma 345
Chapter 25: Ten Ways to Gain Synergies with Lean and Six Sigma 349
Chapter 26: Ten Places to Go for Help 353
Index 357
See More
Craig Gygi is Executive VP of Operations at MasterControl, a leading company providing software and services for best practices in automating and connecting every stage of quality/regulatory compliance, through the entire product life cycle. He is an operations executive and internationally recognized Lean Six Sigma thought leader and practitioner. Bruce Williams is Vice President of Pegasystems, the world leader in business process management. He is a leading speaker and presenter on business and technology trends, and is co-author of Six Sigma Workbook for Dummies, Process Intelligence for Dummies, BPM Basics for Dummies and The Intelligent Guide to Enterprise BPM. Neil DeCarlo was President of DeCarlo Communications.
See More