E-book
Personal Finance For Dummies, 7th Edition
ISBN: 978-1-118-23817-2
480 pages
May 2012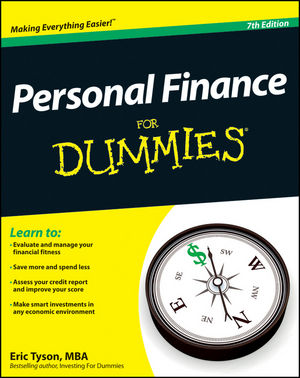 The proven guide to taking control of your finances
The bestselling Personal Finance For Dummies has helped countless readers budget their funds successfully, rein in debt, and build a strong foundation for the future. Now, renowned financial counselor Eric Tyson combines his time-tested financial advice along with updates to his strategies that reflect changing economic conditions, giving you a better-than-ever guide to taking an honest look at your current financial health and setting realistic goals for the future.
Inside, you'll find techniques for tracking expenditures, reducing spending, and getting out from under the burden of high-interest debt. Tyson explains the basics of investing in plain English, as well as the risks, returns, and options for popular investment strategies. He also covers ways to save for college and special events, tame your taxes, and financially survive the twists and turns that life delivers.
The bestselling, tried-and-true guide to taking control of finances, now updated to cover current economic conditions
Provides concrete, actionable advice for anyone facing great financial hardship
Helps you avoid or get out of debt and budget funds more successfully
Eric Tyson, MBA, is a nationally recognized personal finance counselor and the author of numerous For Dummies titles, including Home Buying For Dummies, Investing For Dummies, and Mutual Funds For Dummies, among others
There's no need to stress over an uncertain economy — just read Personal Finance For Dummies and protect your financial future!
See More
Introduction 1
Part I: Assessing Your Financial Fitness and Setting Goals 7
Chapter 1: Improving Your Financial Literacy 9
Chapter 2: Measuring Your Financial Health 21
Chapter 3: Managing Where Your Money Goes 41
Chapter 4: Establishing and Achieving Goals 53
Part II: Spending Less, Saving More 75
Chapter 5: Dealing with Debt 77
Chapter 6: Reducing Your Spending 95
Chapter 7: Trimming Your Taxes 123
Part III: Building Wealth through Investing 147
Chapter 8: Considering Important Investment Concepts 149
Chapter 9: Understanding Your Investment Choices 177
Chapter 10: Investing in Funds 197
Chapter 11: Investing in Retirement Accounts 215
Chapter 12: Investing in Taxable Accounts 237
Chapter 13: Investing for Educational Expenses 251
Chapter 14: Investing in Real Estate: Your Home and Beyond 263
Part IV: Insurance: Protecting What You Have 305
Chapter 15: Insurance: Getting What You Need at the Best Price 307

Chapter 16: Insurance on You: Life, Disability, and Health 325
Chapter 17: Covering Your Assets 349
Part V: Where to Go for More Help 363
Chapter 18: Working with Financial Planners 365
Chapter 19: Using a Computer to Manage Your Money 383
Chapter 20: On Air and in Print 395
Part VI: The Part of Tens 401
Chapter 21: Survival Guide for Ten Life Changes 403
Chapter 22: Ten Tactics to Thwart Identity Theft and Fraud 417
Glossary 423
Index 439
See More
Eric Tyson (www.erictyson.com) is an internationally acclaimed and bestselling personal finance book author, syndicated columnist, and speaker. He is also the author of Investing For Dummies and coauthor of Home Buying Kit For Dummies, both national bestsellers.
See More